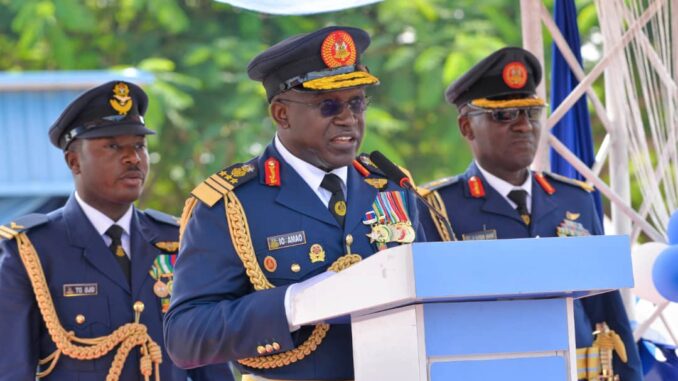 Air Marshal Oladayo Amao (rtd), the immediate past Chief of the Air Staff (CAS), reflects on his fulfilling tenure in the Nigerian Air Force (NAF) as he bids farewell. Delivering his valedictory speech at the NAF Base in Abuja, he expresses a mix of nostalgia and gratitude for the remarkable career milestone he achieved.
Gratitude to the NAF Family
Air Marshal Amao acknowledges the sense of nostalgia and the realization that he will miss the close-knit NAF family. However, he finds solace in the timeless scripture that emphasizes the importance of transitions in life.
Appreciation for the NAF's Dedication
Expressing heartfelt gratitude, Air Marshal Amao commends the officers and personnel of the NAF for their invaluable contributions to the safety and security of the nation. He takes pride in leading a capable and dedicated force that demonstrated exceptional skills in tackling contemporary security challenges.
A Legacy of Preparedness
Despite numerous challenges, the NAF, under Air Marshal Amao's leadership, consistently maintained a state of readiness, adapting to evolving threats. Their unwavering commitment ensured the protection of the nation's airspace and the safety of its citizens.
Acknowledging Support
Air Marshal Amao extends his appreciation to President Bola Ahmed Tinubu, the Commander-in-Chief of the Armed Forces, and the Nigerian people for their steadfast support in equipping the NAF to fulfill its constitutional mandate.
Passing the Baton
Congratulating Air Vice Marshal Hassan Abubakar on his appointment as the new CAS, Air Marshal Amao urges him to build upon the foundation laid and lead the NAF to greater heights. He encourages all NAF personnel to continue giving their best in the service of the nation, highlighting the strength, resilience, and readiness of the Air Force to face any challenge.
A Team Effort
Air Marshal Amao expresses his utmost delight and honor in working with a cohesive team of officers, airmen, airwomen, and civilian staff. Together, they elevated the Air Force to new heights, embodying unity and dedication.
Witnessing the Event
The fly-out ceremony was attended by distinguished guests, including Major General Chris Musa, Chief of Defence Staff, and his spouse, Air Vice Marshal Hasan Abubakar, Chief of Air Staff, and his spouse, Major General Taoheed Lagbaja, Chief of Army Staff, Rear Admiral Emmanuel Ogalla, Chief of Naval Staff, and several former Chiefs of the Air Staff, such as Air Vice Marshal Femi John Femi (Rtd), Air Chief Marshal Paul Dike (Rtd), Air Chief Marshal Oluseyi Petinrin (Rtd), Air Marshal Mohammed Dikko Umar (Rtd), as well as Lieutenant General Faruk Yahaya (Rtd) and Vice Admiral Auwal Gambo (Rtd), among others.
Air Marshal Amao's departure from the Nigerian Air Force marks a moment of accomplishment and pride, leaving behind a legacy of dedication, preparedness, and unity. The NAF is poised to embrace new challenges under the leadership of Air Vice Marshal Hassan Abubakar, with the unwavering support of its personnel and the Nigerian people.