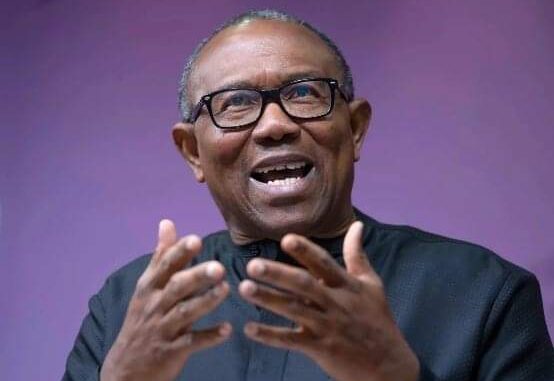 The leadership of the Labour Party has elected to mark today being the 62nd birthday anniversary of our leader, His Excellency Peter Gregory Obi, and has also enjoined all its members across the globe to make today a memorable day in honor of our Presidential candidate.
This was contained in a statement issued by the party's National Chairman, Barrister Julius Abure and shared with Journalists in Abuja on Wednesday.
The statement read "Though, in his usual compassionate attribute, Mr. Obi has asked his supporters to celebrate him less but to devote this day to visiting the less privileged members of our society and sharing their love with them.
"The Labour in Compliance has also directed all our members to honour him by spreading love and compassion and to let Nigerians realize that our dear country will be great again when compassion and love for humanity reign supreme.
"In all his public life, the former governor of Anambra State has dined with the poor, given shelter to the homeless, provided succor to the needy, encouraged children of nobody to be today's leaders, fought for the oppressed, and provided education for the vulnerable. His vision is simply to make the world a better place.
"His past spoke massively for him at the polls with millions of Nigerians rooting for him massively as our President even while the system stood stoutly against the wishes of the people. At the market square, on the streets, and at religious or cultural gatherings, his appearance creates sudden gridlock with a shout of "our president".
"The Party regrets to disobey you for once because there is certainly no hiding place for a goldfish. We will roll out the drums and celebrate you to the high heavens because comets are not usually seen every day.
"How can we not celebrate a man that brought together over 50 million Nigerian youths under one "Obidient" Umbrella? You told us that a New Nigeria is POssible when we transform from a consumption to a productive nation. You told the youth of this nation that their years would no longer be wasted and you provided, solutions with verifiable statistics.
"In less than six months you changed the political equation of the largest black nation in the world by attempting to retire the aristocratic few that have helped grip to power for so long a period, and to empower the vibrant and technologically savvy youths that have been obstructed and denied for so long.
" We know that Nigerians have spoken and because we have faith in the omnipotence of the Almighty, the day of reckoning is here, and Nigerians will rejoice again.
"The Labour Party is very proud of your achievements and we celebrate His Excellency, Peter Obi on this special occasion and pray to the Almighty God to grant him many more years in wisdom, good health, and sound mind in the service of our fatherland and as we always say "To God be the glory,"
"Happy Birthday to the People's President."