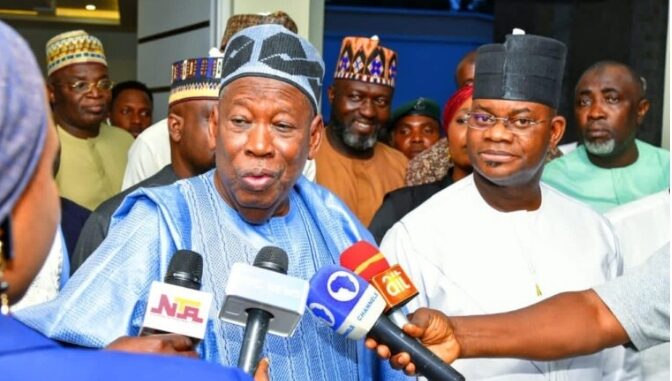 By Tambaya Julius
In a recent gathering to honor the APC National Campaign Council for this pivotal event, Ganduje expressed unwavering confidence in the party's prospects.
Ganduje, the National Chairman of the APC, voiced his optimism, labeling Kogi as a 'safe state' for the party.
He boldly predicted a landslide victory with a remarkable 99% success rate, surpassing their 90% achievement in the 2023 General election.
He also emphasized President Ahmed Bola Tinubu's commitment to ensuring a peaceful and credible election.
Ganduje further stressed the importance of unity within the party, assuring that the APC National Working Committee would throw its full support behind the party's chosen candidate.
He called upon all party members to work together tirelessly for a triumphant outcome in the election.
Kogi's current Governor, Yahaya Bello, echoed Ganduje's optimism, confidently predicting that the APC would secure more than 90% of the votes in the upcoming election.
He endorsed the party's governorship candidate, Alhaji Usman Ahmed Ododo, praising his competence and experience.
Governor Bello emphasized that Ododo possessed the qualities needed to drive progress across various sectors in the state.
Governor Bello also reflected on the state's political transformation, highlighting how, under his leadership, Kogi had transitioned from being predominantly a PDP state to firmly embracing the APC.
He expressed faith in Ododo and his running mate, Oyibo Salifu, stating that they were a capable team ready to build upon his successes in Kogi State.
Finally, the APC's governorship flag bearer, Alhaji Usman Ahmed Ododo, made a heartfelt promise to lead Kogi State in a manner that would make its citizens proud.
He conveyed his commitment to delivering the much-needed leadership and progress that Kogi State deserves.
With these words of confidence and unity, the APC stands poised to make a significant impact in the upcoming Kogi State governorship election, aiming for a resounding victory that will shape the state's future.