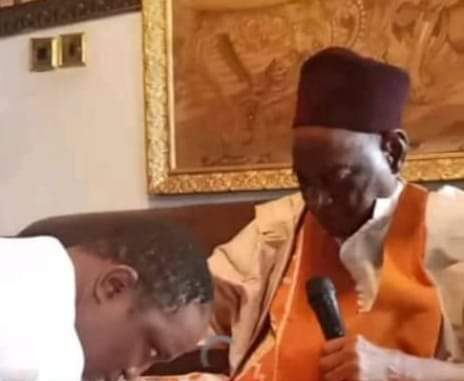 By Summit Post
In what appears to be the 'end of history' in governorship campaign in the Confluence state as Kogi is fondly called because its natural features, the candidate of Social Democratic Party, SDP, Murtala Yakubu Ajaka, this Friday, August 25, 2023, stormed Okene, the heartland of Ebira civilisation and seat of Attah of Ebira, where thousands trooped out to welcome the Ajaka, Igala Mela born politician.
Until thisday, political pundits have always believed going to Kogi Central for a governorship campaign is like daring a lion's den, especially, since 2019. It would be recalled that Okene local government Chairman, had in 2019, stopped the candidate of Peoples Democratic Party, PDP, Engr Musa Wada from campaigning in Okene, citing security concerns.
The visit, which was meant to be a form of courtesy call, turned out to be a carnival of some sort, especially, during Juma'at prayer and at the Palace of Attah of Ebira, which is reputed to be the most sophisticated on this side of the Sahara.
The SDP candidate also visited the graveside of the former strongman of Kogi politics and senator representing Kogi Central Senatorial District (1999-2003), late Ahmed Tijani Ahmed (alias AT Ahmed) and a frontrunner of Islam in Ebira Land, Sheihk Ahmed Rufai.
As reported on his verified social media handle 'X', Alhaji Ajaka said: "Earlier today, I observed my jummat prayer at Okene Central Mosque amongst other Muslim faithful. Afterwards, I proceeded to the graveside of late Prince AT Ahmed and Sheihk Ahmed Rufai where we offered prayers for their souls to continue to rest in peace."
While welcoming the governorship hopeful, the Attah of Ebira Land, AbdulRahman Ado Ibrahim gave what Royal Analysts described as a "Head-up."
In his words:
"My palace is wide opened at any time. No one tells a father not to welcome his children.
"Young man, you have an ambition, are you going to drop your ambition because someone is threatening you?"
Political Analysts say, the November 11 contest is a three horse race between the candidate of the Social Democratic Party, SDP, whose candidate is Alhaji Muritala Yakubu Ajaka, Peoples Democratic Party, PDP, with the flamboyant Senator Dino Melaye and All Progressives Congress, APC candidate, who fielding Usman Ododo, the anointed candidate of the incumbent governor, Yahaya Bello.
The Ohinoyi of Ebiraland is the traditional ruler of the Ebira people. The title Atta of Ebiraland has also historically been used for this position but fell out of favour in the 20th Century. The position is elected by a group of elders and has traditionally rotated amongst the major clans of the Ebira.
The Independent National Electoral Commission, INEC, had slated three (Kogi, Imo and Bayelsa) off-seasons governorship election for November 11, 2023.