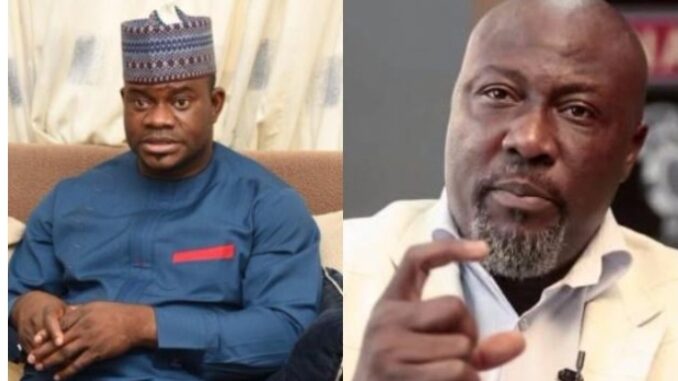 By Tambaya Julius
In the lead-up to the Kogi 2023 Governorship election, the PDP, under the leadership of Senator Dino Melaye, is gearing up to challenge the onerous fees set by the Kogi State Signages Agency for political parties wishing to exhibit campaign materials, particularly signage and billboards.
These fees, as described by the PDP, are not only vexatious but also undemocratic and unrealistic.
The Kogi State Signages Agency's fee structure has sparked outrage within the political sphere, with allegations that it aims to stifle competition and limit the visibility of opposition parties before the November gubernatorial election.
The PDP vehemently rejects what they consider repugnant, pugnacious, and unlawful guidelines set by the current administration.
They call upon other political parties, democratic enthusiasts, and institutions to join them in rejecting these fees.
What makes these signage fees even more contentious is their alleged bias in excluding certain Local Government Areas and towns known to be strongholds of the PDP, including Ijumu and Ankpa Local Government Areas, the hometowns of Senator Dino Melaye and his running mate, Hon Habibat Mohammed Deen, respectively.
According to the PDP, the fee structure is not only obnoxious but also draconian.
It includes a general payment of N5,000,000 (five million naira) for outdoor campaign materials, N2,000,000 (two million naira) for every billboard, N1,000,000.00 (one million naira) for each deployed banner, and an additional caution security deposit of N50,000,000 (fifty million naira).
Under these seemingly inoperable and illegal guidelines, the PDP, having deployed over 50 banners in each of the 21 Local Government Areas of the State, would be expected to pay an astronomical sum of N1,050,000,000 (one billion and fifty million naira) as signage fees alone.
This figure surpasses the entire expenditure threshold of N1b (one billion naira) prescribed for a Gubernatorial election under Section 88 (3) of the Electoral Act, 2022.
The timing of these guidelines is questionable.
They are being introduced two months after INEC had lifted the ban on political campaigns, rendering them retroactive, inapplicable, and inappropriate.
The PDP has already deployed its campaign materials, making the guidelines impractical.
The terms of these guidelines, as proposed by the Bello administration, are restrictive, unimaginative, and clandestine.
Contrary to the provisions of Section 95 (2) of the Electoral Act, 2022, which stipulates that no state apparatus, including the media, should be used to the advantage or disadvantage of any political party or candidate at any election, Governor Yahaya Bello has employed the Kogi State Signage and Advertisement Agency (KOSSA) to impose absurd, untenable, and unreasonable fees for campaign materials, including an obnoxious caution deposit.
Critics argue that the government's objective is to gain undue control over campaign materials.
It appears that, realizing his party and handpicked candidate lack a commendable track record or electoral value to showcase on billboards and banners, Governor Yahaya Bello aims to gain the authority to tamper with campaign materials.
These guidelines, in their current form, are out of step with democratic principles.
The PDP, as a lawful political party, stands firm in its commitment not to subject itself to rules that contravene the laws of the Federation.