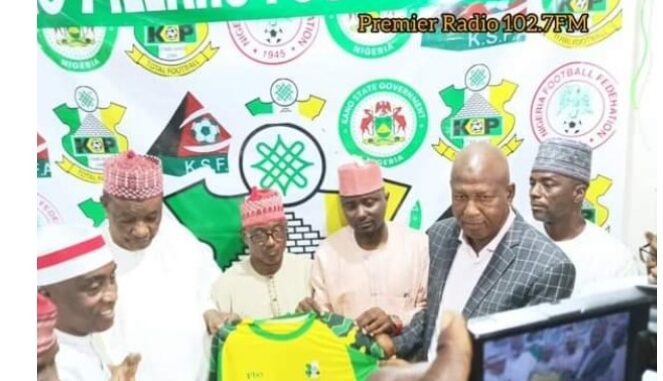 By Tambaya Julius, Abuja
Kano Pillars Football Club, with great anticipation, has officially introduced their new coach, Abdullahi Maikaba, on a one-year contract.
The unveiling ceremony held in Kano exuded enthusiasm and determination for the upcoming 2023/2024 season.
This move aims to breathe new life into the team's future and bring about a triumphant resurgence.
In a ceremonious event on Monday, the Club Chairman, Babangida Little, expressed his heartfelt support and optimism for Coach Maikaba.
Emphasizing the significance of the occasion, Little acknowledged Maikaba as an integral part of the Kano Pillars family, deserving utmost respect.
The chairman's faith in the newly appointed coach to deliver on the given mandate shone brightly during his speech.
This decision comes in line with the club's thorough preparations to seize triumphs in the forthcoming season.
Chairman Babangida Little assured the people of the state and the club's dedicated supporters that Kano Pillars would leave no stone unturned in their pursuit of laurels in the upcoming season.
With a strong determination to achieve greatness, the team is poised to embark on a journey of excellence under the stewardship of Coach Maikaba.
The Kano State Deputy Governor, Aminu Abdulsalam, reiterated the state government's unwavering commitment to sports development.
He wholeheartedly pledged unreserved support to Coach Maikaba and the Kano Pillars Football Club.
This endorsement from the state government signifies the significance of sports in fostering community spirit and promoting excellence.
Overwhelmed with honor and excitement, Coach Maikaba graciously accepted his appointment as the head coach for Kano Pillars.
Having previously served as Technical Adviser at Rangers International and Akwa United, he brings a wealth of experience and ambition to the club.
In his words, "I feel privileged to join Kano Pillars, a club known for its magnanimity and ambition."
Coach Maikaba has set his sights on restoring the club to its former glories with the unwavering support of the government and fans.
Appreciating the club management's belief in his abilities, Maikaba vowed to justify the confidence placed in him.
His dedication to the team's success stands as a testament to the club's astute choice in selecting him.
As the 2023/2024 season approaches, the club's resolve to clinch victories and honor for their state and supporters remains unwavering.
With the government's backing and Coach Maikaba's expertise, the team eagerly awaits a triumphant return to winning ways.
The future holds immense potential for Kano Pillars, and the fans are eager to witness their beloved club soaring to new heights.