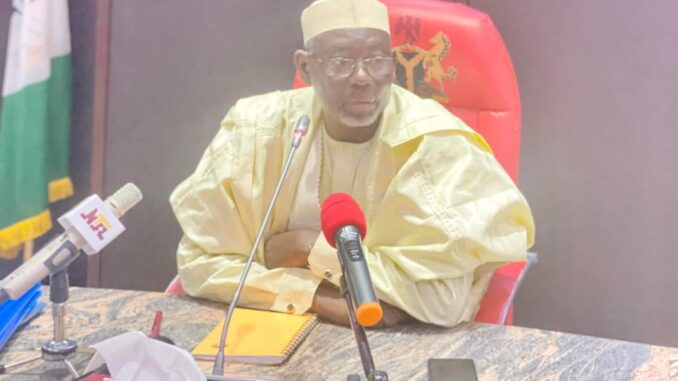 Jigawa state governor Malam Umar Namadi has sworn-in 16 Commissioners to constitute his executive council members and charged them to work on principles of public trust, probity, accountability and fear of Allah.
The new commissioners were sworn in after being nominated by the Governor and also screamed by the state house of assembly.
Speaking shortly after administrating the oath of office and designating the ministries to the commissioners, Governor Namadi said, all the commissioners were carefully selected base on their track record of integrity dedication, professionalism and selfless service to humanity .
" As a new governor I need a competent and capable hands who can help me in pulpiling campaign promises and taking Jigawa to great heights, And God in His infinite mercy and wisdom choose you, please, don't let me down".
" However it is important to state that this administration cherishes hard work, dedication, commitment, loyalty and selfless service. I am also , remind you that public service is public trust and I will not tolerate any breach of that trust'.
"Jigawa people are expecting us to came up with policies and program that will improve their social and economic life, therefore we can only achieve this by discharging our responsibilities on the principles of accountability, probity, loyalty and prudent management of public resources" Governor Namadi stated.
The new commissioners sworn in at Dutse government house included l:1Aminu Ahmad AK commerce ,2Hajiya Hadiza Women affairs, 3 Engineer Gambo S malam Works ,4 Prof Hannatu Finance.
5. Auwalu Sankara Special Duties
6. Babangida Gantsa Budget and economic Planing 7. Hon Ibrahim Garba Water Resources 8. Dr. Isah Yusuf Chamo High Education science and technology. 9. Dr. Lawan Yunusa Danzomo Basic Education.
Other commissioners and their ministries included: 10 Dr. Muhd Abdullahi Kainuwa Health 11. Muhd Garba MK Local Government
12 Muhammad Alhassan Land
13. Alhaji Muttaka Namadi Agriculture
14. Dr. Nura Ibrahim Dandoka To Environment15. Sagiru Musa Ahmad Information 16. Dr. Musa Adamu Aliyu Justice