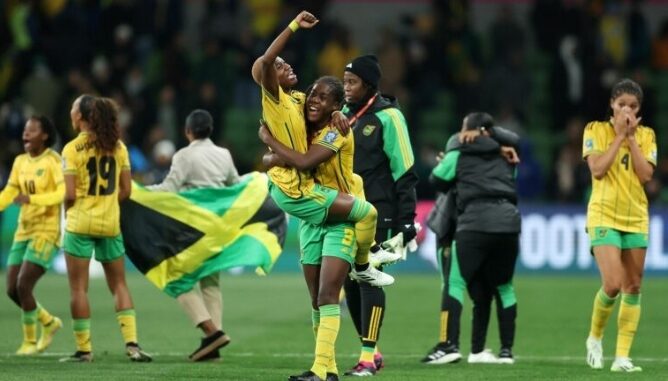 Jamaica achieved a historic milestone in the FIFA Women's World Cup by becoming the third Concacaf nation and the first from the Caribbean to reach the Round of 16.
The Reggae Girls displayed an outstanding defensive performance in Melbourne, resulting in a scoreless draw that eliminated Brazil from the competition.
Throughout the tournament, the Reggae Girls faced tough challenges, but they were resolute in their pursuit of victory.
Notably, they belong to an exclusive group of three nations, alongside Switzerland and Japan, that have not conceded a single goal at Australia & New Zealand 2023.
From the beginning of the game, the pattern was clear – Jamaica aimed for a draw to secure their passage, while Brazil desperately needed a win.
Despite possessing 59 percent of the ball at halftime, the South American team struggled to break down Jamaica's well-organized defense.
As the match progressed, Brazil's frustration grew, and Jamaica's defensive determination became more evident.
Even with star striker Khadija Shaw sidelined due to injury, the Reggae Girls' defensive prowess rendered Brazil's offensive efforts ineffective.
The game marked a significant moment for Marta, the legendary Brazilian forward, who sought to become the first player, male or female, to score in six World Cups.
However, her dreams were shattered as Jamaica's resilience prevailed, and the match ended with Jamaica securing their place in history.
Jamaica's achievement in keeping a clean sheet at Australia & New Zealand 2023 is remarkable, especially considering they conceded 12 goals in their previous outing four years ago.
Their progress to the Round of 16 was celebrated with tears of joy by fans and the football community alike.
Their historic victory against Brazil showcases the strength of Caribbean football and their determination to succeed on the world stage.
As the tournament continues, all eyes will be on the Reggae Girls as they continue to make history.