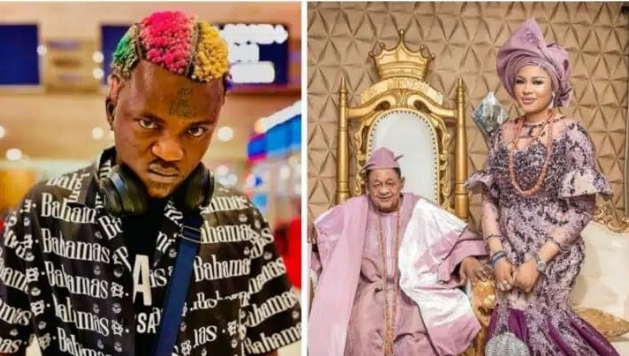 By Tambaya Julius
Intriguing Nigerian Vocalist – Habeeb Okikiola, popularly known as Portable, embodies a boldness that matches his outspoken lyrics.
His candid nature often draws him into street skirmishes.
Nevertheless, his seemingly unchanging demeanor misleadingly portrays him as someone with diminished emotions.
In line with his characteristic forthrightness, Portable has chosen to divulge the reasons behind his involvement with Queen Dami, the former wife of the late Alaafin of Oyo, even though she had been banned from the palace.
Rumors had previously circulated that the Zaazu crooner not only had an affair with Dami but also shared intimate moments with her.
While both parties had initially kept mum about these speculations, a quick glance at their Instagram profiles reveals instances of mutual affection, where they've endearingly referred to each other as king and queen, sprinkled with an array of affectionate emojis.
Portable's revelations extend beyond his romantic entanglement with Dani; he provides insights into the motivations behind this relationship.
During an interview on the Honest Bunch Podcast hosted by On Air Personality, Nedu Wazobia, the self-proclaimed Ika of Africa debunked reports suggesting he fathered a child with Dami, a child attributed to the late Alaafin.
He clarified that the child's paternity indeed belonged to the departed traditional ruler.
Undoubtedly, Portable affirms that Dami had been a devoted admirer of his, even before the Alaafin's passing.
He affirms that he entered into the relationship post-Alaafin, humorously remarking, "After being a king, I too am king," all the while maintaining his trademark poker face.
Furthermore, Portable emphatically states that had the king been alive, he would have kept his distance from Dami, respecting the boundaries of other men's marriages.
He jestingly asserts, "Had the king been living, you wouldn't have witnessed me by her side.
I don't pursue married women," firmly cementing his stance.
The interactions between these two individuals provide a glimpse into the complexity of human emotions and relationships.
As Portable continues his journey through the labyrinth of life, his candidness remains an undeniable element of his intriguing persona.