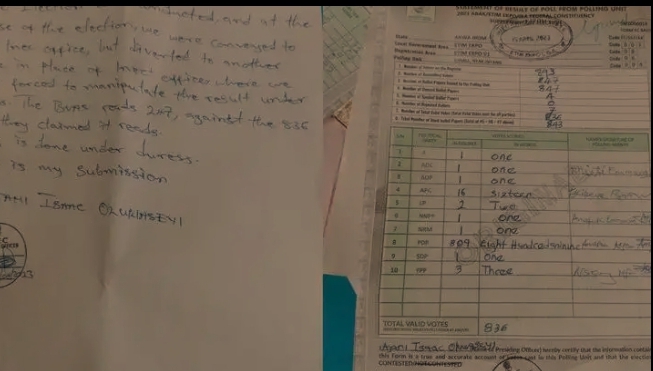 A Presiding Officer of the Independent National Electoral Commission (INEC), Ajani Isaac Oluwaseyi, has claimed that he was forced to change the supplementary election results in Etim Ekpo Local Government Area of Akwa Ibom State under duress in favor of the ruling Peoples Democratic Party (PDP) in the state.
The supplementary election which took place at Abak and Etim Ekpo Federal Constituency was reportedly marred with rigging and intimidation of INEC officials…..CONTINUE READING
According to the Presiding Officer's letter obtained by SaharaReporters, they were forcibly diverted while on their way to the INEC office and forced to change the results in favor of the PDP candidate. The BVAS reads 247 against the 836 that they claimed.
The candidate of All Progressives Congress (APC), Clement Jimbo, has called for the cancellation of the results, describing them as a charade that would not stand the test of time.
Jimbo was said to be leading with a margin of 2862 votes before the conduct of the supplementary election. He had recently raised an alarm of a plot by the ruling party to manipulate the Abak/Etim Ekpo/ Ika Supplementary election.
He alleged that the conspiracy agenda was aimed at inflating figures and votes to suppress, surpass, and undermine the existing wide margin of 2,962 in favor of the APC and give the PDP the leeway to steal the election.
Clement also alleged that there had been several high-level meetings held by interested persons within the PDP to strategize on how to militarize the supplementary election with a heavy deployment of political thugs and fake policemen and fake soldiers.