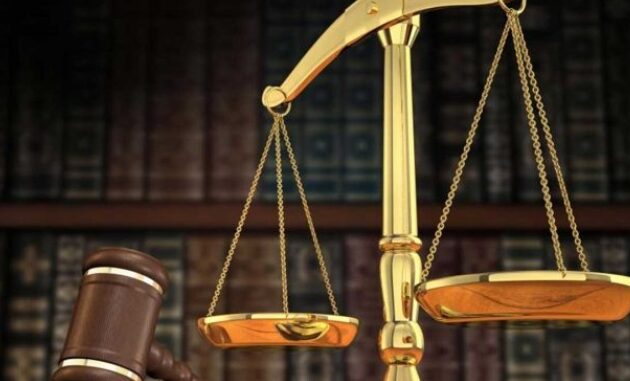 By Israel Bulus, Kaduna
The National Assembly Election Petition Tribunal sitting in Kaduna delivered a 3-Minutes judgement on Wednesday, dismissing the petition filed by the Labour Party (LP) Senatorial candidate seeking to invalidate the victory of the Kaduna-South Senator, Barr. Sunday Marshall Katung.
Recalled that the Senator was returned elected in the National Assembly election conducted on February 25th, 2023 by the Independent National Electoral Commission, (INEC)
The Kaduna-South Senator (PDP) was dragged before the tribunal by the candidate of the Labour Party (LP) Engr. Micheal Auta.
The three man justices, in a unanimous judgment stated that the candidate of the labor party failed to provide substantial evidence to proved the case of compliance of electoral act and violence during the February 25th election.
In his petition, Auta alleged that the elections was marred by non-compliance of electoral processes, while elections were not conducted in some parts of Kachia and Kagarko Local Government Areas, seeking the Tribunal to nullify INEC's proclamation.
One of the three-panel Tribunal committee who delivered the judgement, Justice O.O. Oluboyede who delivered the judgment declared that the petitioner had failed to provide credible evidence to prove his case. He dismissed the petition in its entirety.
One of the lead Counsel to the respondent, Zigwai Z. Adamu, said that the petition filed by the Labour Party candidate alleged that elections were not conducted on some certain polling units, but however, the petitioner could not adduced credible evidence as contained on their pleadings.
" The petitioner have tried to make the tribunal to go into fishing festival, to fish evidence that was never tendered for it. The Tribunal is a court of justice, not a court of emotions but evidence that is before them they'll use at the end of the day.
" We thank the Tribunal for upholding the victory of the Kaduna-South Senator, Bar. Sunday Marshal Katung.
Meanwhile, fielding question from Journalists shortly after the ruling, The minority leader in the Kaduna State House of Assembly, Hon. Ali Kalat commanded the Tribunal for affirming the victory of Bar. Sunday Marshal Katung.
According to him, the Kaduna-South Senator has been one of the major political player in the region, noting it was surprising for someone that was not non to challenge someone like Katung.
" Southern Kaduna has been a PDP's region, someone cannot come and contest and election and claim victory overnight." Kalat concluded.
End..