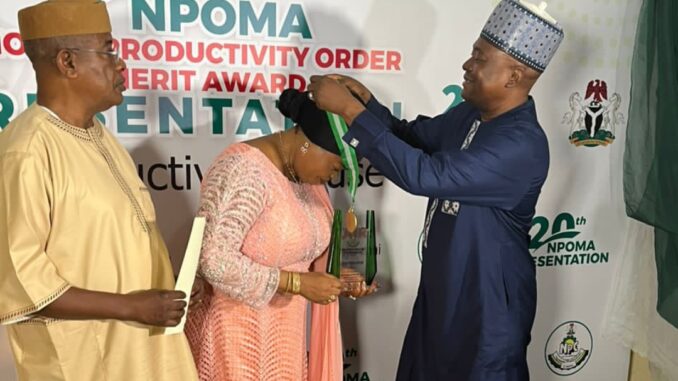 Princess Adejoke Orelope Adefulire has tirelessly worked towards the domestication and successful implementation of SDGs programs in Nigeria. Through collaborations with Civil Society Organizations (CSOs), the Private Sector Advisory Group (PSAG), and subnational entities, significant progress has been achieved across all 16 SDGs.
Notably, the UN program's seamless transition into the decade of action owes much to Princess Adejoke Orelope Adefulire's passionate leadership.
In September 2022, during the United Nations General Assembly meeting in New York, the former President of Nigeria, Muhammadu Buhari, launched the Integrated National Financing Framework (INFF). This milestone event marked another stride forward in Nigeria's commitment to the SDGs. Furthermore, the alignment of the National Statistical System (NSS) under the guidance of Princess Adejoke Orelope Adefulire and collaboration with the National Bureau of Statistics (NBS) has played a pivotal role in driving the SDGs agenda in the country.
Enhancing Social Services: Focus on Education and Health
To invigorate and strengthen critical social services, namely education and health, Princess Adejoke Orelope Adefulire led the launch of the SDGs 3 and 4 evaluation reports. These reports provide strategic insights and recommendations for improving these sectors, as championed by the UN SDGs. The SDGs' holistic approach, in collaboration with stakeholders, aims to ensure accessible and quality education while promoting the well-being and healthcare of all citizens.
Creating Sustainable Impact: Infrastructure and Commissioning Projects
Undeterred in her pursuit of progress, Princess Adejoke Orelope Adefulire has dedicated efforts towards the development of infrastructure and commissioning of impactful projects, particularly in the health sector. These initiatives have directly improved the lives of ordinary Nigerians, garnering widespread acclaim and recognition. The Princess's unwavering commitment has earned her numerous public service awards and national and international honors, highlighting her exceptional contributions to the success of SDGs programs.
In October 2022, Princess Adejoke Orelope Adefulire received the national honor of Officer of the Order of the Federal Republic (OFR) from the federal government. Additionally, she was twice awarded the National Productivity Order of Merit (NPOM) for 2022, acknowledging her outstanding dedication. Moreover, she was recognized as the 'SDGs Champion' by the UN Nation's Resident Humanitarian Coordinator in Nigeria, Mathias Schamale, further solidifying her remarkable achievements.
During an award session in Abuja, Nigeria's First Lady, Mrs. Oluremi Tinubu, commended Princess Adejoke Orelope Adefulire for her invaluable contributions in strengthening SDGs programs and their domestication in Nigeria. The Princess's efforts have garnered widespread commendation from both public and private sectors, local and international supporters, and Civil Society Organizations (CSOs).
In conclusion, Princess Adejoke Orelope Adefulire's outstanding leadership and relentless dedication have played a pivotal role in advancing the SDGs agenda in Nigeria. Her transformative initiatives, collaborative engagements, and infrastructure projects have been key in propelling the nation closer to achieving the goals set for the decade of action. Her exemplary work has been widely recognized and acknowledged, highlighting the significant impact she has made in driving sustainable development in Nigeria.
Abubakar Yusuf is a writer based in Abuja. Contact him at yus.abubakar3@gmail.com.