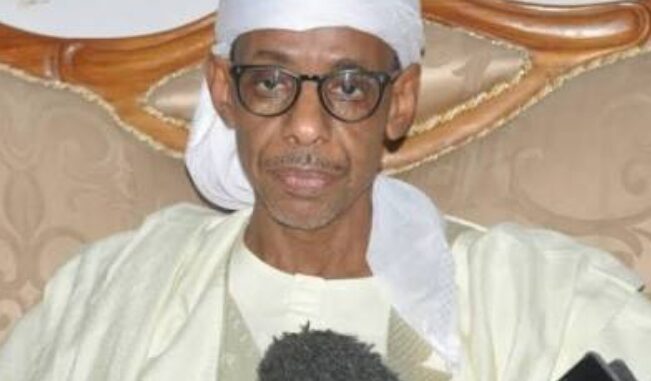 By Tambaya Julius
In an unexpected turn of events, Hakeem Baba-Ahmed, elder brother of Labour Party's (LP) vice-presidential candidate, Datti Baba-Ahmed, has answered the call to serve as the Special Adviser on political matters to Vice-President Kashim Shettima.
This significant development holds both promise and intrigue for Nigeria's political arena.
Hakeem Baba-Ahmed's acceptance of this vital role in Vice-President Kashim Shettima's government marks a noteworthy transition in his career.
As the spokesperson of the Northern Elders Forum (NEF), his influence and perspectives are poised to shape political strategies and decisions at the highest level.
It's worth noting that Hakeem Baba-Ahmed is closely related to Datti Baba-Ahmed, who contested as the vice-presidential candidate for the Labour Party in the recent election.
This familial connection adds a layer of complexity to his new role, potentially affecting the dynamics of the LP and its relationship with the current administration.
Hakeem Baba-Ahmed made his appointment official in a concise statement released on Monday.
He expressed his commitment to the cause of serving his country at a crucial juncture, emphasizing the need for action over criticism:
"It is time to make it public that I have accepted the call to serve as Special Adviser (Political) to the VP, Kashim Shettima.
This is not the time for fence-sitting or criticism when you can be useful in turning the country round. I am honored and humbled. Please pray for me and Nigeria," Hakeem stated.
As expected, the announcement generated a flurry of reactions on social media platforms.
Among these, Uche Anyawu voiced skepticism about the impact of this appointment, questioning its influence on policy-making:
"You can only pretend for so long; the true picture will never be hidden".
The vice president, in truth, has no special authority, so I wonder of what use your advice would be to him or even help in influencing policies.
To agree to serve in this government is to authenticate the evil that produced them.
I state categorically and unequivocally that your stand on principles of good governance is a hoax; you are at best a religious and regional warrior!"