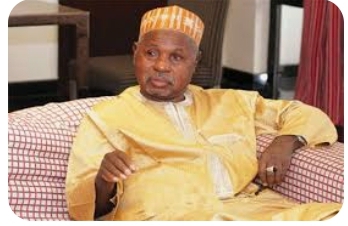 In a significant turn of events, the 4th Tribe Global Movement has raised concerns about the omission of former Katsina State Governor Aminu Masari from President Bola Tinubu's government.
This South-West-based political group alleges that influential figures within Tinubu's administration purposefully excluded Masari, despite his steadfast loyalty, substantial investments, and contributions to the administration's victory in recent elections.
In a statement released by Mr. Abayomi Mighty, the group's convener and leader, it is argued that Aminu Masari played a critical role in advocating for the rotational presidency, the shift of power to the South, and the selection of Tinubu as the presidential candidate.
Mighty's statement, which was disseminated to the media on a Tuesday in Abuja, highlights Masari's efforts in promoting the rotation of the presidency to the South and in garnering support for Tinubu's candidacy among northern governors.
Masari, described as an unwavering supporter of Tinubu, is credited with using his political prowess and influence to transform Katsina into a stronghold for the All Progressive Congress (APC).
Katsina State's invaluable contribution to Tinubu's presidential bid cannot be overstated.
Despite challenges like security concerns and a shortage of funds that generated voter apathy during the elections, the APC in Katsina State displayed an impressive performance in the 2023 elections, with only a marginal loss.
According to data from INEC, the APC secured 482,283 votes, while the Peoples Democratic Party (PDP) received 489,045 votes.
Although the APC lost the presidential race in Katsina State due to anti-party activities, Masari's leadership led the party to a remarkable victory in the National Assembly elections, winning three senatorial seats and nine out of 15 House of Representatives seats for the APC.
As a grassroots politician, his influence and relevance were instrumental in mobilizing massive support for the current governor of Katsina State, ultimately leading to a successful gubernatorial election.
Given Aminu Masari's pivotal role in securing Tinubu's victory, Mighty contends that he deserves first consideration in the ongoing discussions regarding political appointments.
However, Mighty alleges that certain detractors exploited Masari's absence from national campaigns across the country to advance their own interests during ministerial nominations.
These detractors engaged in character assassination and ensured that neither of the two ministers from Katsina State hailed from Masari's camp.
Mighty, who regards Tinubu as a "successful democrat who genuinely rewards loyalty and recognizes capacity," suggests that some decisions were made by powerful figures within the administration without the president's final approval.
Notably, apart from Masari, other loyalists of the president have expressed dismay at the actions of these influential individuals, which undermine well-conceived plans aimed at delivering a renewed hope agenda for Nigerians.
Mighty, speaking on behalf of the 4th Tribe Global Movement, implores President Tinubu to prioritize meritocracy, equity, and fairness when addressing matters concerning the North, particularly Katsina State.
This, he asserts, will ensure that rewards are allocated based on actual contributions and political values.