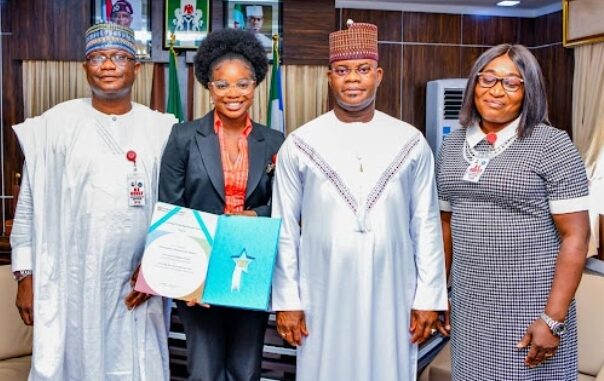 By Tambaya Julius, Abuja
Governor Yahaya Bello of Kogi State, in a heartwarming gesture, has extended a prestigious scholarship to Oluwabukolami Adeyemi, the brilliant recipient of the British Council Outstanding Cambridge Learner's Award.
This recognition is a testament to her exceptional performance in the 2022 Cambridge IGCSE and Cambridge AS Level Examinations.
Governor Bello welcomed Oluwabukolami and her parents to his office in Lugard House, Lokoja, with sincere admiration for her outstanding accomplishments.
Her achievements not only bring immense pride to her state but also to Nigeria and the global academic community.
Oluwabukolami, who has already secured admission to a prestigious university in the United Kingdom to pursue her passion for law, dreams of becoming a highly successful lawyer with an international outlook on her profession.
Her vision includes breaking geographical boundaries to excel in the field of legal practice.
Additionally, Oluwabukolami aspires to play a pivotal role in governance.
Her ambitions encompass holding leadership positions within Nigeria or contributing significantly to policy formulation and legislative processes.
Her dedication to her goals is evident, and her request for prayers for her parents, who bear the financial burden of her overseas education, is a testament to her deep gratitude.
Governor Bello's Commendation
Governor Bello, in his remarks, applauded Oluwabukolami's exceptional talents and urged parents to draw inspiration from the dedication shown by Mr. and Mrs.
Adeyemi in nurturing their child's potential through education.
He stressed that Oluwabukolami's global recognition is solely a result of her intellectual prowess, achieved without any impropriety.
In continuation of his tradition of generosity, Governor Bello, known for previously awarding multiple scholarships to exceptional students and supporting medical expenses locally and abroad for underprivileged patients, announced the establishment of a scholarship in his name for Oluwabukolami.
This further demonstrates his unwavering commitment to the advancement of education.
Mr. Adeyemi, Oluwabukolami's father, expressed profound gratitude to Governor Bello, describing the scholarship offer as nothing short of miraculous.
He offered heartfelt prayers for the governor's continued well-being and that of his family.
Oluwabukolami Adeyemi's remarkable journey led her to shatter the glass ceiling by achieving the highest scores in the examination, conducted across a staggering 146 countries worldwide.
This inspiring story of Governor Bello's scholarship gesture to a deserving young talent embodies the essence of nurturing excellence through education and celebrates Oluwabukolami's determination to make a significant impact in the world.