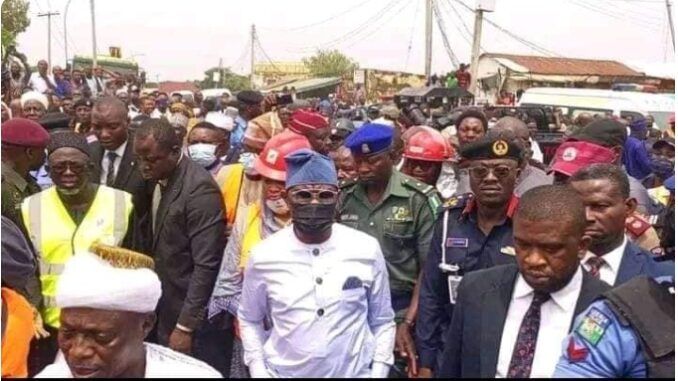 By Tambaya Julius
In the aftermath of the unfortunate building collapse in Abuja, the victims found solace in the benevolence of Minister Nyesom Wike.
A two-story building, nestled on Lagos Street, Garki Village, tragically crumbled one Wednesday, claiming two lives while injuring 37 others, who were swiftly transported to various hospitals for urgent medical attention.
Minister Nyesom Wike, demonstrating remarkable leadership, promptly visited the disaster site the following Thursday.
He issued a directive to the Federal Capital Territory Administration, instructing them to cover all medical expenses for the victims currently receiving treatment across FCT hospitals.
In response to this compassionate gesture, the survivors expressed profound gratitude for the minister's intervention.
These heartfelt accounts serve as a testament to the impact of timely support during a crisis.
Mr. Abdullahi Modibbo, presently under the care of Asokoro District Hospital, Abuja, recounted his harrowing experience.
Trapped on the first floor when the building collapsed, a boulder pinned his leg, causing a fracture.
He praised the government's swift response and the exceptional care provided by healthcare workers.
Thanks to Minister Wike's promise, Modibbo hasn't had to bear any medical costs.
Another survivor, Mr. Garba Nagoma, currently recuperating at Cedarcrest Hospital Gwarinpa, rejoiced when informed that the government would cover his medical bills.
Nagoma's brother had already paid N500,000 towards the initial bill.
This support came as a beacon of hope amid trying times.
Mr. Shehu Mohammed, who suffered head and eye injuries, lauded Minister Wike for extending a helping hand.
He was operating his tailoring shop within the building when the disaster struck.
Dr. Winifred Esite, a medical officer at Garki Hospital, Abuja, disclosed that 14 victims were admitted, with 12 successfully treated and discharged, though one tragically lost their life.
Mrs. Charity Amadi, a mother of two and currently pregnant, expressed her gratitude for the FCT minister's support.
She and others found temporary refuge at the Cherubim and Seraphim Area 2 Shopping Centre, Abuja, having lost everything in the collapse.
Amid her journey to ensure the well-being of her unborn child, the government's assistance provided a much-needed lifeline.
After their visit to the hospitals, Mr. Malan Haruna, acting Secretary of Health and Human Services Secretariat, FCTA, provided insights.
He emphasized that their mission was in compliance with Minister Wike's directive to ensure the victims' well-being.
Of the 37 victims, four are still under medical care, 31 have been treated and discharged, and two regrettably succumbed to their injuries.
Haruna assured that any medical bills incurred during these visits would be duly covered by the government.