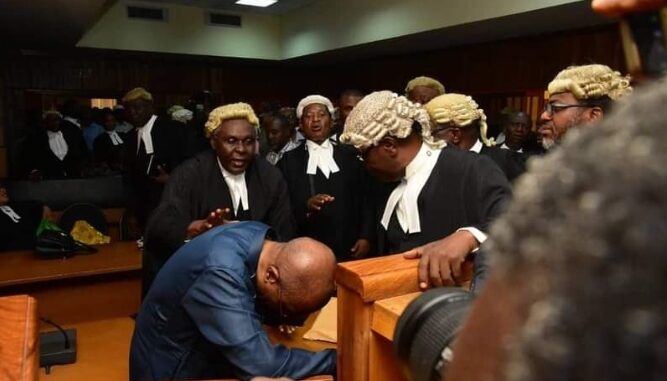 By Tambaya Julius
The suspended Central Bank of Nigeria (CBN) Governor, Godwin Emefiele, found himself in an emotionally charged situation as the High Court of the Federal Capital Territory adjourned his arraignment to August 23rd, 2023.
Originally slated for Thursday, the arraignment was abruptly postponed due to the absence of several defendants implicated in the charges.
This unexpected delay resulted in an emotional moment for Emefiele, who was visibly moved by the situation.
Present in the courtroom, Emefiele faced charges alongside Sa'adatu Yaro, a female CBN employee, and her company, April1616 Investment Limited.
The charges spanned across 20 counts, encompassing allegations of procurement fraud, conspiracy, and conferring corrupt advantages.
Earlier, on July 25, Emefiele faced a separate two-count charge related to the "illegal possession" of firearms at a federal high court in Ikoyi.
Following this, he was granted bail in the amount of N20 million.
In a contentious move, Judge Nicholas Oweibo ordered Emefiele to be held in the custody of the Nigeria Correctional Service (NCoS) until his bail conditions were met.
The resulting conflict between the Directorate of State Security (DSS) and prison officials over custody added to the complex legal saga.
Subsequently, DSS reapprehended Emefiele on the court premises, leading to further legal maneuvers.
The secret service filed an application with the high court of the federal capital territory to extend Emefiele's detention, but this application was later withdrawn due to jurisdictional concerns.
Further complicating the legal landscape, on August 3, the federal government lodged an application before the federal high court in Lagos, seeking permission to appeal against the bail granted to Emefiele.
Then, on August 15, the federal government took the unexpected step of making an oral application to withdraw the charge of "illegal possession of firearms" against Emefiele.
These recent developments have kept legal experts and the public on edge as they follow the twists and turns of Emefiele's legal journey.
As the arraignment date of August 23rd approaches, the spotlight will once again be on the suspended CBN Governor as he faces the allegations against him.