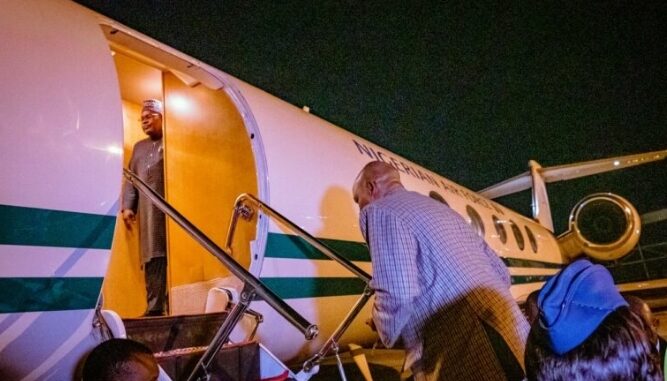 By Tambaya Julius
In a significant diplomatic stride, Vice President Kashim Shettima has set out on a mission of utmost importance – representing President Bola Tinubu at the prestigious G77+China Leaders' Summit, scheduled to unfold in the captivating city of Havana, Cuba, from September 15th to 17th.
This gathering of influential leaders, including the esteemed UN Secretary-General, Antonio Guterres, is poised to engage in profound deliberations on the pressing development issues that confront nations, particularly those hailing from the global south.
Diving deeper into the summit's agenda, the leaders will actively seek innovative solutions to surmount the challenges that hamper the progress of member states.
Their focus: the application of science, technology, and innovation as powerful tools for ushering in socio-economic growth and prosperity.
Shettima's role extends beyond the summit sessions.
On the sidelines of this grand assembly, he will engage in bilateral discussions with other world leaders.
This strategic effort aims to boost Nigeria's trade and investment relations, in alignment with President Bola Tinubu's visionary approach to economic development diplomacy.
The G77+China Leaders' Summit is graciously hosted by the President of the Republic of Cuba, Miguel Díaz-Canel, who presides as the Chairman of the G77.
His leadership sets the stage for a productive and impactful event.
The overarching theme of this momentous summit is "Current Development Challenges: The Role of Science, Technology, and Innovation."
It underscores the vital role that cutting-edge knowledge and creativity play in addressing the complex issues of our time.
It is essential to remember that Nigeria stands as one of the founding members of the G77 group, its inception dating back to 1964.
This coalition of 134 developing countries, representing an astonishing 80% of the world's population, aspires to advance the collective economic interests of its members and fortify their joint negotiating power within the United Nations.
Accompanying Vice President Shettima on this pivotal journey are notable figures from the Nigerian government.
The delegation comprises Abubakar Kyari, Minister of Agriculture and Rural Development; Uche Nnaji, Minister of Innovation, Science, and Technology; and Mr. Adamu Lamuwa, the astute Permanent Secretary of the Ministry of Foreign Affairs.
As Vice President Kashim Shettima undertakes this mission, Nigeria looks forward to deepening its global engagement, fostering cooperation, and embracing the transformative potential of science, technology, and innovation on the international stage.
This marks a defining moment in Nigeria's pursuit of prosperity and global relevance.