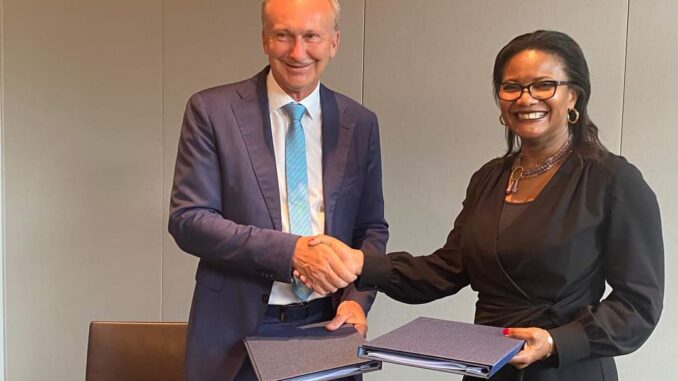 Germany's financial support enhances NEPAD-IPPF's initiatives, with a focus on green and climate-smart infrastructure, and reinforces the second Priority Action Plan.
The African Development Bank (www.AfDB.org) and KfW, representing the German Federal Ministry for Economic Cooperation and Development (BMZ), have announced the replenishment of the NEPAD – Infrastructure Project Preparation Facility (NEPAD-IPPF) Special Fund, aiming to enhance regional infrastructure in Africa.
To replenish the Special Fund, the German Government has pledged €10 million.
The agreement was signed in Berlin, with Helmut Gauges, Head of Financial Cooperation in Subsaharan Africa, representing KfW, and Hassatou N'Sele, Vice-President and Chief Financial Officer of the African Development Bank.
Germany's support will strengthen NEPAD-IPPF's efforts in priority areas, including green and climate-smart infrastructure, and the second Priority Action Plan of the Programme for Infrastructure Development in Africa for 2021-2030 (PIDA-PAP 2).
Moreover, it will facilitate Africa's transformation under the Africa Continental Free Trade Area, fostering intra- and extra-African trade.
"The partnership aims to bolster infrastructure development, with a special focus on climate change, gender, Agenda 2063, and the Sustainable Development Goals," explained Christoph Tiskens, Director at KfW.
Tiskens acknowledged NEPAD-IPPF's achievements and emphasized the need for additional resources to meet the growing demands placed on the Fund. "KfW, representing the German Government, is a crucial partner of the African Development Bank, and we will continue to support facilities that play a pivotal role in economic growth and poverty reduction," he affirmed.
N'Sele emphasized the significance of partners like Germany in assisting the African Development Bank in fulfilling its vital development mission, especially during the current global challenges.
"With the replenishment of the NEPAD-IPPF Special Fund, we are determined to further support our clients, empowering them to realize their economic potential through increased infrastructure investments. This will contribute to green growth, inclusion, and job creation," N'Sele affirmed.
Mike Salawou, African Development Bank's Director for Infrastructure and Urban Development, highlighted the importance of Germany's latest contribution. He expressed confidence in the Fund's ability to fulfill its mandate successfully and acknowledged NEPAD-IPPF's critical role in African infrastructure development.
Therefore, it is crucial to reinforce the Fund with the necessary resources to meet its objectives and fulfill its mandate effectively.