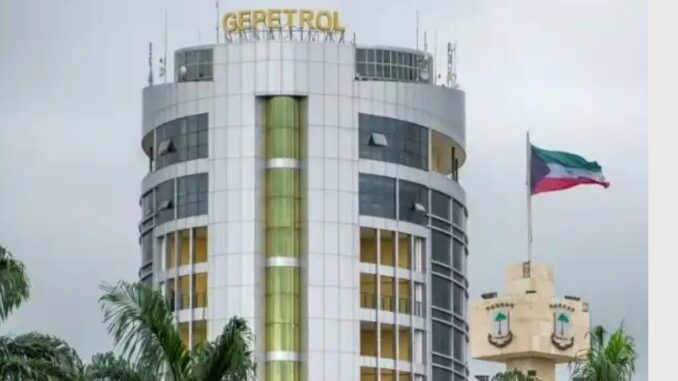 GEPetrol's Managing Director, Teresa Isabel Nnang Avomo, is driving investment discussions, promoting local content, and advancing women's participation in the oil and gas industry at the African Energy Week conference.
Queues return To Lagos, Abuja After Tinubu's Petrol subsidy Removal Speech
African National Oil Companies (NOCs) are revolutionizing Africa's energy sector, emerging as competitive operators and valuable partners in their own right.
Among them, GEPetrol, Equatorial Guinea's NOC, stands out for its pivotal role in unlocking the immense potential of both on- and offshore energy markets.
This article focuses on the remarkable contribution of GEPetrol's Managing Director, Teresa Isabel Nnang Avomo, who has been selected as a keynote speaker at this year's African Energy Week (AEW) conference.
Avomo will spearhead discussions encompassing Equatorial Guinea's market potential, investment opportunities, the significance of NOCs in Africa's future, and strategies to empower women in the oil and gas industry.
Avomo's Distinctive Leadership
Appointed as the first female Managing Director of GEPetrol, Avomo brings a wealth of experience and expertise to her role in the oil and gas industry.
Prior to assuming this position, she played a vital role as the Deputy Director of Operations at the NOC, where she effectively directed and optimized upstream operations and business activities across the entire hydrocarbons value chain.
Under Avomo's guidance, GEPetrol is strategically positioned to enhance upstream developments by collaborating closely with international energy companies and independent operators, expanding the domestic and regional energy sectors.
Equatorial Guinea: A Growing Energy Powerhouse
Avomo's appointment as the Managing Director of GEPetrol comes at a pivotal moment for both the company and the country as a whole.
Equatorial Guinea's Gas Mega Hub (GMH) initiative, aimed at monetizing regional gas resources by connecting offshore basins to the Punta Europa facility onshore, is making significant progress. Consequently, the country is solidifying its position as a regional processing hub and a major global exporter of energy resources.
Noteworthy agreements, such as the Heads of Agreement with Marathon Oil Corporation for the second and third phases of the GMH, as well as the cooperation deal with neighboring Cameroon for joint offshore basin development, demonstrate the forward momentum achieved by GEPetrol.
Unleashing Potential: Upstream Progress And Collaboration
GEPetrol, in collaboration with its project partners, is actively advancing drilling operations in existing and new oil fields, aiming to unlock new discoveries and address natural declines in legacy fields. Simultaneously, the NOC remains committed to promoting local content and regional collaboration.
By serving as a benchmark for other African NOCs, GEPetrol showcases the significance of up-skilling and re-skilling the local workforce in alignment with industry demands and societal impact.
Equatorial Guinea has established cooperation agreements with countries like Namibia, Nigeria, and Cameroon, actively collaborating with regional neighbors to enhance local content and build capacity.
Empowering Women: A Vision For Inclusion
Avomo's appointment signifies not only her remarkable skillset and leadership in the industry but also GEPetrol's commitment to fostering inclusivity within the oil and gas workforce.
As a strong advocate for women in the industry and a mentor herself, Avomo is poised to play an instrumental role in narrowing the gender gap and driving innovation through gender diversity. Her invaluable contributions to both the NOC and the wider market have positioned Equatorial Guinea on the cusp of realizing its aspirations of becoming a regional hub and global energy exporter.
AEW 2023: Avomo's Impactful Role
The African Energy Week 2023 conference takes great pride in hosting Teresa Isabel Nnang Avomo as a distinguished speaker.
Avomo's appointment as the Managing Director of GEPetrol has generated much excitement, and her continued work in Equatorial Guinea is eagerly anticipated. Avomo's presence serves as a shining example of the essential role and need for more women in leadership positions across Africa's energy sector.
Her contributions to panel discussions, NOC forums, and investor summits during AEW 2023 will enhance understanding of Equatorial Guinea's energy sector progress, opportunities, and Africa's energy future as a whole.
As the AEC's premier annual energy event, AEW 2023 unites African policymakers, NOCs, global investors, and project developers under the theme of "The African Energy Renaissance: Prioritizing Energy Poverty, People, the Planet, Industrialization, and Free Market." Taking place in Cape Town, this conference represents the largest gathering of African energy and petroleum ministers, NOCs, and energy companies on the continent.
With Avomo at the helm of GEPetrol, Equatorial Guinea is poised for a series of remarkable achievements, solidifying its position as an energy powerhouse and driving sustainable growth in Africa's energy landscape.