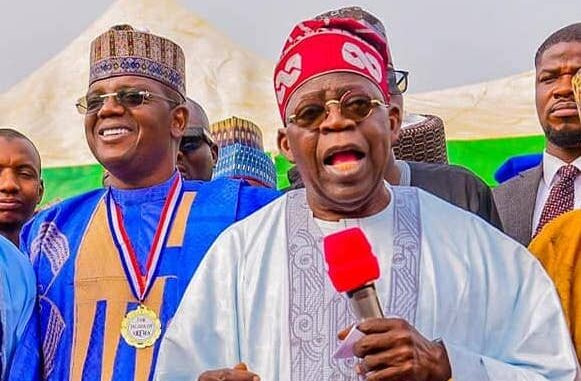 By Suleiman Abdul-Azeez
On March 15 2023, Nigerian voters trooped out enmasse to offer a verdict for their future by comprehensively trusting Bola Ahmed Tinubu to lead the country through and out of its current limitations around security and the economy, into a future in which people will live secure lives and pursue livelihoods in a united Nigeria whose resources will be protected by leaders.
The voters were quite aware as well, that until Nigeria gets to where it wants to be, it will be President Bola Tinubu's lot to assemble the Nigerians to advise him and take forward his vision. He will need people who will convey his concerns and compassion; who will reach and bring comfort to millions who suffer in an economy under stress; and people who will combine his personal integrity with competence and commitment.
Obviously working to meet these incredible voter expectations, President Tinubu's proposed cabinet is one that promises to be the most diverse in Nigeria's recent history, comprising more women and young people than the cabinet before it — which, in many ways, fulfills his campaign promise to select a team that will lead to better outcomes and more effective solutions to address the urgent crises facing the nation and modernize the predominantly male, elderly institution.
President Bola Tinubu campaigned to have a government as diverse as Nigeria, and so far, the nominations to his cabinet include several historic appointments; each also sheds further light on how the Tinubu administration will govern as it tackles multiple political, economic and security crises roiling the nation.
Already, the Senate has confirmed all but three of Tinubu's choices, more than half of his 48-member cabinet will be young people and female, according to an analysis by a group which tracks diversity in Nigerian government.
And there will be other notable firsts: In addition to the barrier-breaking Vice President Kashim Shettima of the same faith with the President, and in positions beyond the cabinet — like senior presidential aides – the administration is "at parity or better than" the makeup of all the elected administraions that preceded it.
Traditionally, vice presidents were not given much authority, but that position has grown in stature with the onset of the Tinubu administration,  and is already becoming one of the most influential positions in government, as former Vice President Shettima is demonstrating.
In the last administrations, cabinets — which can change in size if the president decides to elevate certain positions — were predominantly male and young people made up no more than 5 percent.
No matter from which prism one decides to look at the data for the Tinubu preparation for governance – whether looking at the cabinet or at the presidency staff – one is going to see the same commitment to diversity.
The levels of diversity in Tinubu's ministerial nomination list are particularly notable when compared with the numbers in the National Assembly. The representation of women in the 10th Assembly is not a significant improvement from the outgone 9th Assembly. The 10th Assembly has women occupying 3 out of 109 seats (2.7%) in the Senate and 17 out of 360 seats in the House of Representatives (4.7%), which represents 4.2% of the 469-member Assembly.
But checking off a list of diverse candidates is one thing. It is quite another to give diverse candidates a true voice and an opportunity to shape policies. In this regard, Tinubu's biggest breakthrough is that he's appointing different people to different jobs.
People with intimidating political credentials and record of performance in government such as Dr Bello Muhammad Matawalle, a politician and teacher who served as the governor of Zamfara State from 2019 to 2023.
A core grassroots man, Matawalle's career started as a teacher at Government Girls College, Moriki and Kwatarkoshi before joining the Federal Ministry of Water Resources. Matawalle's first shot at politics was in 1998 when he ran for a house of assembly seat and won under the defunct United Nigeria Congress Party (UNCP) which had such big-name politicians as Ambassador Isa Aliyu Mohammed Argungu (Sarkin Yakin Kabbi) Ibrahim Gusau, Atiku Abubakar, Abdullahi Aliyu Sumaila, Attahiru Bafarawa, Adamu Aliero, Suleiman Takuma, Ibrahim Kura Mohammed, Ibrahim Saminu Turaki and Kabiru Ibrahim Gaya.
Between 1999 and 2003 Matawalle served as Zamfara State Commissioner for Local Government and Chieftaincy Affairs, Commissioner for Environment, Rural Development and then Commissioner for Youth and Sports.
He was elected into the House of Representatives by his constituents Bakura/Maradun in May 2003 on the platform of the defunct All Nigeria Peoples Party (ANPP).
Matawalle was re-elected in 2007 still on the platform of the ANPP, switched to the PDP on the platform of which he was re-elected for a third term in 2011.
In the governorship election of March 2019, Matawalle polled 189,452 as against the 534,541 votes for Muktar Idris, the APC candidate who was declared winner before the court of appeal in Sokoto ordered INEC to withdraw the certificate of return issued to him.
The Supreme Court later pronounced that the votes cast for the APC in the election as wasted and ordered that the candidate with the second highest votes be sworn in because the APC failed to conduct primary election for all the candidates in Zamfara State.
On June 27, President Muhammadu Buhari's Personal Media aide Bashir Ahmad said Matawalle had joined the APC which was later confirmed by Matawalle's spokesperson Ibrahim Dosara.
He participated actively in the campaign for the victory of Tinubu not only in the North-west where he was coordinator, but all across the three zones of Northern Nigeria mobilising the youth and all significant components of the northern society into the mainstream of the Asiwaju campaign activities.
At the risk of overstating the issue, one can safety and boldly say that with the nomination of Matawalle and others like him, Tinubu has proved that he is a leader that identifies, recognizes and rewards loyalty and selfless service.
With no fear of contradiction, Matawalle is on record as a meticulous mobilizer of men and resources whose mobilization strategies involved every significant component of Northern society by embarking on a massive campaign to make the Asiwaju movement felt among  the Northern intelligentsia, religious and community leaders, students in higher institutions as well as the business community and brought them  into the mainstream of its activities.