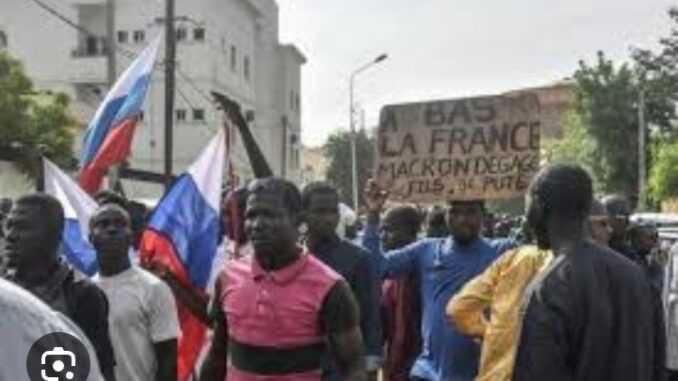 In the wake of Niger's seventh coup in recent years, West African nations took a firm stance by imposing sanctions and threatening potential force if the ousted President Mohammed Bazoum is not reinstated within a week.
The Economic Community of West African States (ECOWAS) convened an emergency summit to discuss the situation and call for the restoration of constitutional order.
The developments have led to widespread tensions, with supporters of the junta attacking the French embassy in Niamey, further escalating the crisis.
The ECOWAS bloc, consisting of 15 nations, was quick to respond to the unfolding events in Niger.
As a first measure, the bloc closed borders with Niger and banned commercial flights.
Additionally, financial transactions were halted, national assets frozen, and all aid to the country suspended.
Military officials involved in the coup were met with stringent measures, including travel bans and freezing of assets.
The summit, held in Nigeria, yielded a communique warning of potential reprisals if constitutional order was not restored promptly.
In a significant move, Chad's President Mahamat Idriss Deby volunteered to engage with the military leaders in Niger, offering his assistance in facilitating dialogue.
The ECOWAS sanctions have sparked debates and concerns, with Niger's Prime Minister Ouhoumoudou Mahamadou expressing worry about the country's ability to withstand the financial impact.
The heavily aid-dependent nation faces catastrophic consequences due to the sanctions, leading to uncertainty and anxieties among its citizens and international partners.U.S. Secretary of State Antony Blinken expressed support for ECOWAS's actions, calling for the immediate release of President Mohamed Bazoum and the restoration of the democratically-elected government's functions.
The coup in Niger has been widely condemned by the United States, the United Nations, the African Union, the European Union, and former colonial power France, all of whom have refused to recognize the new leadership led by Gen. Abdourahamane Tiani.
The crisis in Niger has far-reaching implications beyond its borders. Niger has been a crucial ally in the fight against insurgent groups linked to al-Qaeda and the Islamic State in the Sahel.
The coup raises concerns about potential disruptions in counterterrorism efforts and the risk of greater Russian influence in the region.
The presence of thousands of French troops has already been affected, with withdrawals from neighboring Mali and Burkina Faso following previous coups in those countries.
The call for the reinstatement of President Mohammed Bazoum and the restoration of constitutional order underscores the importance of maintaining democratic governance in the region.
As the crisis unfolds, the eyes of the world remain on West Africa, with hopes for a peaceful resolution and a return to stability in Niger and the Sahel region.