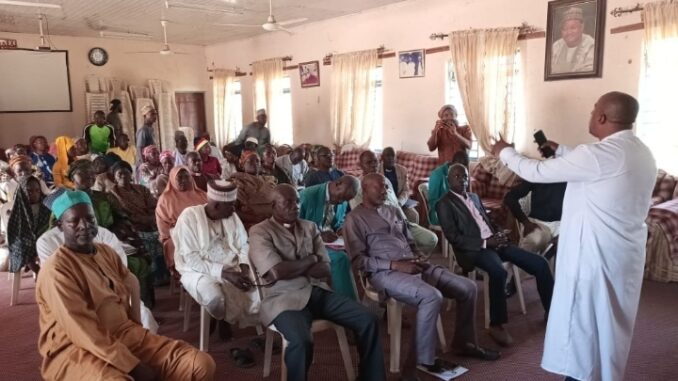 By Tambaya Julius
In a bid to further strengthen the relative peace being enjoyed in Atyap Chiefdom in Zango Kataf Local Government Area of Kaduna State, religious leaders within the Chiefdom have agreed to send messages of peace, love, forgiveness and understanding to their congregations.
These were part of the resolutions reached on Monday at the end of a one day interactive meeting, convened at the instance of Victor Abarshi funded by Ladies Empowerment Goals and Support Initiative (LEGASI) and her partner Peace Direct (PD), held at the Agwatyap Palace in Tak'Njei.
In their various contributions during the meeting, the participants, including Imam Tanko Isa and Canon Timothy Haruna, noted that the move will douse the tension and help put an end to the wanton killing of innocent lives and destruction of properties which has continued to portray the area in bad light in recent past.
They reaffirmed their commitment to also champion the cause of building bridges of genuine reconciliation, trust and healing through the contents of their messages, because both Christians and Muslims are descendants of Adam and Eve which makes them members of one family under God.
Earlier, the convener of the meeting, Mr. Victor Abarshi reminded the religious leaders on the need to instil in their followers the spirit of forgiveness and understanding as enshrined in the Holy Books, instead of sowing seeds of hatred and vengeance in them.
He maintained that since there was no alternative to peace in any society, the people must put aside their past and pursue to restore the peace their forefathers have enjoyed in the past.
Salama News reports that the gathering also identified critical areas that, if addressed, could pave the way for enduring peace within the Chiefdom.
These pivotal solutions include the reestablishment of the weekly Zango Market, unwavering respect and allegiance to the Paramount ruler of the region, and the opening of all grazing routes to mitigate damage to agricultural produce, among other essential measures.