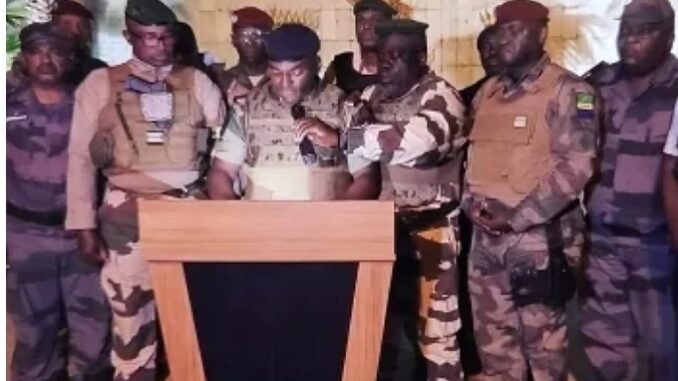 In the realm of Gabonese history, a seismic shift occurred, shrouded in mystery and determination.
The enigmatic faces of 12 Gabonese military officers emerged from the shadows, heralding the end of a 56-year-old Bongo family dynasty.
This watershed moment sent shockwaves not only across Gabon but reverberated throughout the entire African continent.
In an unprecedented move, these officers introduced themselves as members of 'The Committee of Transition and the Restoration of Institutions.'
Their mission is to safeguard peace by dismantling the prevailing regime.
In their resounding statement, they declared, "In the name of the Gabonese people…we have decided to defend the peace by putting an end to the current regime."
As one officer eloquently voiced their joint statement, a formidable assembly of a dozen others stood steadfastly behind him, adorned in military fatigues and berets.
Their determination to instigate change was palpable.
The daring soldiers boldly asserted that the results of the recent election, which saw President Ali Bongo declared the victor with 64.27% of the vote, were null and void.
This declaration set the stage for a political earthquake.
Albert Ondo Ossa, Bongo's principal contender, had been allocated a mere 30.77% of the votes, a fact that had stoked widespread controversy.
The opposition had vociferously decried Bongo's supposed victory as fraudulent and had proclaimed their own triumph.
In an audacious move, the 12 putschists declared the complete annulment of the election results, along with the dissolution of "all the institutions of the republic."
Their decree of dissolution resonated far and wide.
State institutions that had wielded power for decades now faced a reckoning.
The government, the senate, the national assembly, the constitutional court, and the election body were all cast aside in a dramatic show of force.
One of the soldiers, speaking on Gabon 24, captured the essence of their mission, stating, "After observing irresponsible, unpredictable governance resulting in a continuing deterioration in social cohesion that risks leading the country into chaos.
"we have decided to defend peace by putting an end to the current regime."
A New Chapter in Gabonese History
This historic moment marked a dramatic departure from the status quo.
Ali Bongo had ascended to power in 2009, succeeding his father, Omar El Hadj Omar Bongo Ondimba, who had served as Gabon's president for a remarkable 42 years, from 1967 until his passing in 2009.
The younger Bongo's leadership had faced its share of challenges, including a debilitating stroke in 2018 that sidelined him for nearly a year, prompting calls for his resignation.
The subsequent year witnessed a failed coup attempt, resulting in mutinying soldiers being sent to prison.
The future of Gabon now stands at a crossroads, as the nation grapples with uncertainty and change.
The enigmatic faces behind this historic coup speech have set in motion a series of events that will undoubtedly shape the destiny of this African nation.
Gabon and the world await, with bated breath, the unfolding chapters of this gripping narrative.