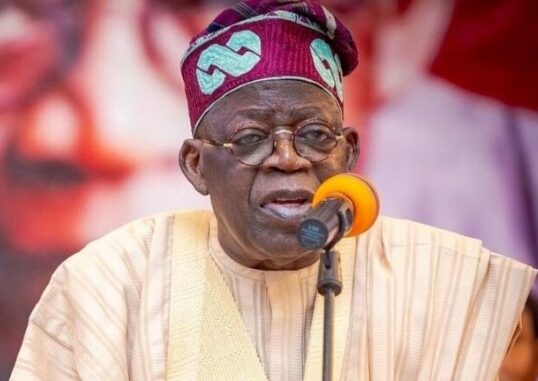 By Tambaya Julius
In a welcome announcement, President Bola Ahmed Tinubu has reassured Nigerians that the cost of premium motor spirit, commonly referred to as petrol, will not experience any more price hikes.
This declaration comes as a relief to many citizens who have been grappling with rising fuel expenses.
The President's spokesperson, Ajuri Ngelale, conveyed this affirmation during a confidential discussion between him and the President.
"The President wants to ensure all Nigerians that despite the recent declarations from the Nigerian National Petroleum Company Limited (NNPC), there will be no upward adjustments in the petrol price across the nation," stated Ngelale emphatically.
He continued, emphasizing, "We reiterate the President's stance that the price of petrol will remain stable."
Ngelale also disclosed that the administration is committed to rectifying any existing inefficiencies associated with the supply of petroleum products within the country.
These concerns will be promptly addressed to facilitate seamless product delivery.
"Furthermore," Ngelale added, "the President underscores the presence of inefficiencies within the midstream and downstream sectors of the petroleum industry.
Swift corrective measures will be taken to streamline these sectors, ensuring that we maintain current price levels without needing to revert the administration's deregulation policy."
This pledge follows recent reports hinting at an impending increase in petrol rates, potentially escalating from the current N617 to approximately N720 per litre.
The cost of petrol has experienced a series of fluctuations, with prices escalating from N194 per litre to N537 on May 30, and further climbing to N617 on July 19 after President Tinubu announced the discontinuation of petrol subsidies in his inauguration speech on May 29.
In contrast, Bennett Korie, the President of the Natural Oil and Gas Suppliers Association of Nigeria (NOGASA), presented a viewpoint suggesting that petrol prices could be influenced by the fluctuating naira-to-dollar exchange rate.
Speaking at a press conference in Abuja, Korie asserted, "Certainly, as the value of the dollar increases against the naira, the price of PMS is likely to follow suit.
When the exchange rate stands at $1 to N950, an uptick is anticipated."
He went on to express concern, stating, "We strongly recommend the government's proactive intervention on the currency issue.
Failure to address this matter could lead to higher prices for diesel, petrol, and other petroleum derivatives."
As the nation navigates these potential shifts in fuel pricing, President Tinubu's assurance of stability and his commitment to addressing systemic issues within the petroleum industry offer a glimmer of hope to Nigerians seeking relief from unpredictable fuel costs.