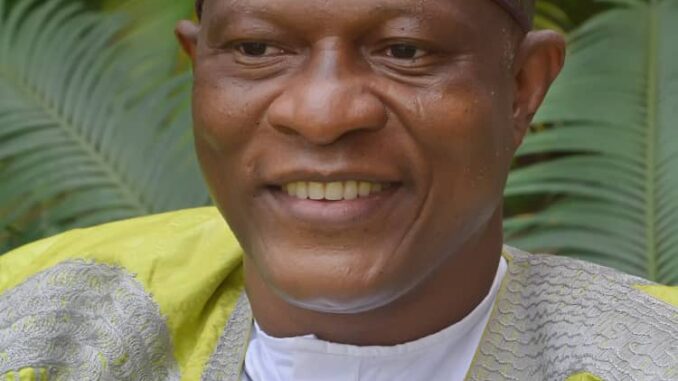 By Abubakar Yusuf
In an effort to revolutionize research outcomes in Nigerian universities and nationwide, Professor R.F. Atata, an esteemed figure in Pharmaceutical Microbiology and the Head of Department of Pharmaceutical Microbiology and Biotechnology at the University of Abuja, proposes the establishment of a Directorate of Research, Innovation, and Development.
The primary focus of this new initiative will be to steer research efforts in a direction that brings about tangible and impactful results.
Professor Atata strongly emphasizes the necessity of translating research from the laboratory to practical applications, ensuring that valuable findings are not abandoned midway.
By observing the entire research journey, from laboratory experimentation to the production of finished products, the new Directorate aims to overcome the existing dearth of research initiatives and make a real difference.
One of the major issues identified by Professor Atata is the lack of robust collaborations among different individuals and resource persons involved in laboratory experiments.
To address this, he proposes embracing international academics from various fields, including sciences, social sciences, arts, and humanities, fostering joint efforts and harmonization of research results.
Biomedical sciences, for instance, hold potential in the development of vaccines for various diseases, especially re-emerging and emerging infectious diseases.
On the other hand, the social sciences and arts could contribute to resolving pressing social problems such as banditry, kidnappings, cattle rustling, and other criminal vices through information gathering and analysis.
The establishment of a dedicated central laboratory under the Directorate will facilitate scientific investigations across various disciplines, ensuring the smooth execution of research procedures in all areas of study.
Commending the University of Abuja's efforts in establishing a center for research and development under Professor Abdulrasheed NaAllah's leadership, Professor Atata views it as a stepping stone toward achieving the desired results.
Moreover, the outcomes of the research conducted within the universities will be compiled in a comprehensive compendium, proposing policies, redesigning existing government policies, and implementing new ones.
This will help uncover both the positive and negative impacts of the research on society, guiding policymakers toward informed decision-making.
To support these academic endeavors, Professor Atata calls for increased funding for researchers and scholars.
He highlights the importance of opportunities for academic excellence and a robust policy framework, as seen in developed and developing countries alike, including Nigeria.
Besides financial support, it is crucial to provide the necessary and modern equipment to encourage the formation of research groups across institutions.
Relevant bodies should also offer grants to tackle current and pressing societal issues effectively.
Under the proposed Directorate, the University of Abuja will expand its research scope beyond drug production to determine drug resistance levels, identification, modification, and necessary adjustments.
Additionally, as part of its social responsibility, the Directorate will conduct awareness campaigns, seminars, talkshops, symposiums, workshops, and other outreach activities to raise public consciousness about research findings and objectives.
With the universities at the forefront of research and policy initiatives, society will greatly benefit from well-investigated policies and programs of the government.
The establishment of the Directorate of Research, Innovation, and Development presents a promising path towards enhancing research impact and addressing the nation's challenges effectively.