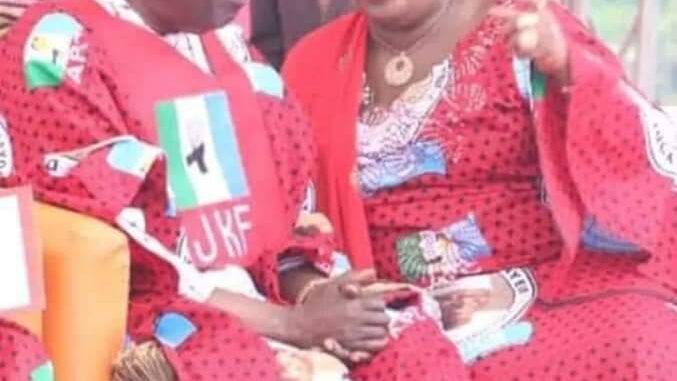 By Abubakar Yusuf
In the intricate landscape of Nigerian politics, the pursuit of decorum often contends with the chaotic nature of the field.
Hajia Salamatu Baiwa Umar-Eluma, the former APC National Woman Leader, who championed the politics of development, progress, and transformation for both actors and the nation.
Hajia Salamatu Baiwa Umar-Eluma brings a fresh approach, deriving from her extensive experience in the private sector and a dynamic public service career marked by transparency and administrative prowess.
Since her induction into active politics, which commenced before and extended beyond her public service tenure, she has skilfully woven these attributes into the fabric of the All Progressives Congress (APC) since 2015.
Baiwa's engagement with active politics unfolded with a balanced approach to decision-making and mobilization, leaving an indelible imprint on her journey.
A pivotal aspect of her strategy was ensuring that women assumed crucial roles, following their extensive involvement in the 2015 and 2019 general elections, both of which saw the APC securing sweeping victories.
Positioned as the guiding light for Nigerian women, Hajia Salamatu Baiwa Umar-Eluma orchestrated substantial roles for women and an expansive mobilization effort that cast them as central figures during this epoch.
Notably, her efforts extended to advocating for women's representation at local, national, and international levels, culminating in the United Nations General Assembly's acknowledgement during its 74th session.
As the representative for women, Baiwa presented a comprehensive position paper advocating increased attention to women's issues at both global and national scales.
This dedication bore fruit during the 2019 tenure of Former President Muhammadu Buhari, where her advocacy led to the inclusion of women on Federal Agency Boards.
This marked a turning point as numerous women surged to prominent positions within executive branches, agencies, departments, and ministries—her legacy casting ripples into the subsequent administration.
Baiwa's unwavering commitment to women's emancipation endured as she actively participated in the 2023 general elections, fervently urging for women's inclusion in the present administration based solely on merit.
Displaying admirable tolerance, her magnanimous spirit allowed for two former successors as National Woman Leaders of the APC to be appointed as Minister Designates, even in the face of top-party-level decisions.
Although traditionally poised to assume the ministerial role, Baiwa, driven by the broader good of the nation, ceded her potential position in favor of the prevailing circumstances.
Her actions underscored a profound grasp of politics' dynamic nature, aligning her approach with the best interests of both the party and the Nigerian populace.
Baiwa's unique disposition and commitment to rewarding party loyalty might not manifest immediately, adhering instead to democratic practices and party norms.
Yet, in a realm where political rewards are inherent, the time is ripe for the recognition of Hajia Salamatu Baiwa Umar-Eluma, the esteemed Former National Woman Leader of the All Progressives Congress (APC).
Without a doubt, President Bola Ahmed Tinubu's astute political acumen has enabled the harmonious coexistence of dedicated political stalwarts, thus safeguarding the party's progress—a testament to the value of proactive measures.
Yusuf, a Public Affairs Analyst, provides insight from Abuja. You can reach him at yus.abubakar3@gmail.com.