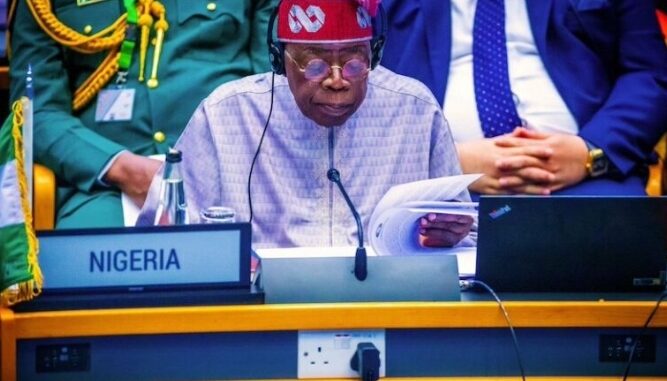 By Tambaya Julius, Abuja
President Bola Tinubu of Nigeria has undertaken a thorough review of the N8,000 conditional cash transfer program, aiming to enhance its effectiveness and address concerns raised by Nigerians.
This initiative is part of the government's broader commitment to mitigating the impact of fuel subsidy removal and ensuring the welfare of vulnerable citizens.
In addition to the review, President Tinubu has unveiled a comprehensive palliative package encompassing various measures.
President Tinubu recognizes the importance of assessing and improving the N8,000 conditional cash transfer program, which aims to support 12 million vulnerable Nigerians.
In response to public feedback on the program's adequacy, President Tinubu has initiated a comprehensive review.
The objective is to enhance its impact and ensure it effectively alleviates the hardships caused by fuel subsidy removal.
Alongside the review of the conditional cash transfer program, President Tinubu's administration is introducing a wide-ranging palliative package.
This package encompasses various measures designed to provide relief and support to Nigerians.
Recognizing the importance of agriculture in the country, President Tinubu has ordered the distribution of fertilizers to approximately 50 million farmers.
Additionally, grains will be allocated to households across all 36 states and the Federal Capital Territory (FCT).
These initiatives aim to bolster food security and promote sustainable agricultural practices.
President Tinubu assures Nigerians that the N500 billion allocated by parliament to alleviate the impact of fuel subsidy removal will be utilized judiciously.
The President remains committed to ensuring transparency and accountability in the allocation and utilization of these funds.
The objective is to benefit all Nigerians, irrespective of their ethnic, religious, or political affiliations.
President Tinubu's administration places great emphasis on equitable distribution and prioritizes the collective welfare of the nation.
President Tinubu's commitment to the wellbeing of Nigerians is evident in his approach as a responsive and proactive leader.
Demonstrating attentiveness to the concerns of citizens, the President has taken various decisions to address burdensome challenges faced by different sectors.
Notably, in response to complaints from the business community regarding excessive taxes, President Tinubu signed four Executive Orders.
These orders aim to alleviate the tax burden by canceling certain classes of taxes and suspending the implementation of others.
Furthermore, a Tax Reform/Fiscal Policy Committee has been established to recommend measures that foster a favorable fiscal environment and remove barriers to business.
President Tinubu's administration has communicated its commitment to expanding the National Social Safety Net Program.
In a letter to the National Assembly, the President requested approval for an $800 million loan from the World Bank under the 'National Social Safety Net Program-Scale Up.'
The funds will directly support impoverished and vulnerable citizens, aiming to improve their living conditions.
Through the conditional cash transfer window, the Federal Government plans to provide N8,000 per month to 12 million low-income households for a duration of six months.
This initiative is expected to have a positive multiplier effect, benefiting approximately 60 million individuals.