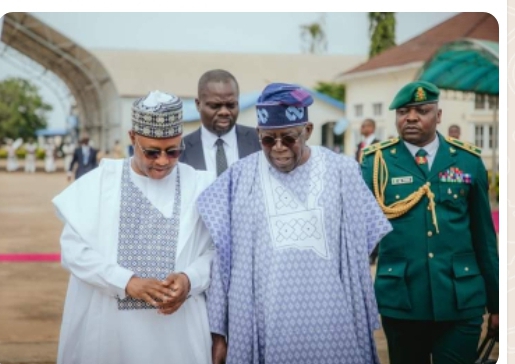 By Tambaya Julius, Abuja
Earlier today, the Executive Governor of Kaduna State, His Excellency Mallam Senator Uba Sani, played the role of Chief Host as he warmly welcomed President Bola Ahmed Tinubu, GCFR, to Kaduna State.
The occasion marked the graduation ceremony of officers from Senior Course 45 at the prestigious Armed Forces Command and Staff College, Jaji, Kaduna.
Notable figures such as senior government officials from both Federal and Kaduna State Governments, top military officers, politicians, captains of industry, relatives of the graduating officers, and members of the public graced the colourful event.
The graduation ceremony was a momentous event, where Governor Uba Sani extended his heartfelt congratulations to the accomplished officers.
He recognized their dedication and hard work throughout the course, which has equipped them with valuable knowledge and skills to address critical challenges plaguing the nation.
During the ceremony, President Bola Ahmed Tinubu addressed the graduating officers and delivered an inspiring message.
He urged them to employ the knowledge they have gained during their time at the Armed Forces Command and Staff College to reinvigorate the battle against banditry, terrorism, insurgency, kidnapping, and all other forms of criminality that threaten the peace and security of Nigeria.
As the ceremony progressed, it became evident that these officers hold the key to shaping Nigeria's future security landscape.
Their training and education have prepared them to lead with distinction and confront the complex security challenges facing the nation.
The knowledge and expertise these graduates have acquired are indispensable in tackling the pressing security concerns that have, unfortunately, become a recurrent issue.
Their strategic understanding and tactical prowess will be vital in protecting citizens and ensuring a safe environment for development and progress.
In the fight against criminality, cooperation among various stakeholders is of paramount importance.
The graduation ceremony served as a platform for key figures from different sectors to come together and reaffirm their commitment to working in unison towards securing Nigeria's future.
Governor Uba Sani, in his address, assured the graduating officers of the state government's unwavering support in their mission to protect the nation.
He pledged to provide resources and create an enabling environment for their efforts to yield positive results.
President Tinubu's and Governor Uba Sani's presence at the graduation ceremony demonstrated the government's dedication to strengthening the security apparatus and fostering a safe environment for all Nigerians.