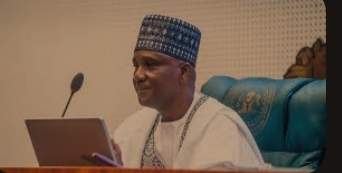 In celebration of the 2023 International Youth Day, Rt. Hon. Abbas Tajudeen, Ph.D, the distinguished Speaker of the House of Representatives, has extended his heartfelt appreciation to the Nigerian youth for their remarkable talents and steadfast spirit.
He underscores their unwavering passion for the nation, making this year's observance particularly poignant.
The genesis of this commemoration traces back to the United Nations General Assembly, which, in December 2009, sanctioned Resolution 64/134.
This resolution designated the year beginning on August 12, 2010, as the International Year of Youth. For this year, the spotlight is on 'Green Skills for Youth Towards a Sustainable World.' It's a thematic narrative that aligns with the Speaker's conviction that the Nigerian youth hold the key to a sustainable tomorrow.
In alignment with the chosen theme, Speaker Abbas warmly encourages Nigerian youth to embrace skill acquisition with unbridled enthusiasm.
He views their active participation as a vital contribution to nurturing a sustainable global community.
This call resonates deeply as he recognizes the indispensable role that the youth play in shaping Nigeria's destiny, both within its borders and beyond.
Paying tribute to President Bola Ahmed Tinubu, Speaker Abbas commends his discernment in identifying youthful talents to serve within the Federal Executive Council.
This strategic move reaffirms the Speaker's assertion that the younger generation's presence is pivotal to driving national development.
Emphatically, the 10th House has vowed to amplify their commitment to addressing the concerns of the youth, demonstrating their unwavering dedication to their well-being.
Under Speaker Abbas's stewardship, legislation that champions job creation and cultivates skills and talents within the burgeoning youth populace will be championed with zeal.
Drawing attention to a pressing issue, Speaker Abbas stresses the necessity of curbing brain drain.
He advocates for the creation of platforms that foster a thriving business and career ecosystem for the youth, thereby curtailing the exodus of valuable talents.
With Nigeria boasting a vibrant demographic dividend in its youth population, the Speaker identifies this as a pivotal opportunity to propel the nation towards greater heights.
He proudly highlights the numerous achievements of young Nigerians, which have garnered international acclaim and bolstered the country's reputation.
In a fervent plea, Speaker Abbas urges Nigerian youth to uphold the law and remain steadfastly loyal to their homeland.
He assures them that their diligence will pave the way for a future that is both luminous and fulfilling.
Signed:
Musa Abdullahi Krishi, Special Adviser on Media and Publicity to the Esteemed Speaker, House of Representatives, Federal Republic of Nigeria.