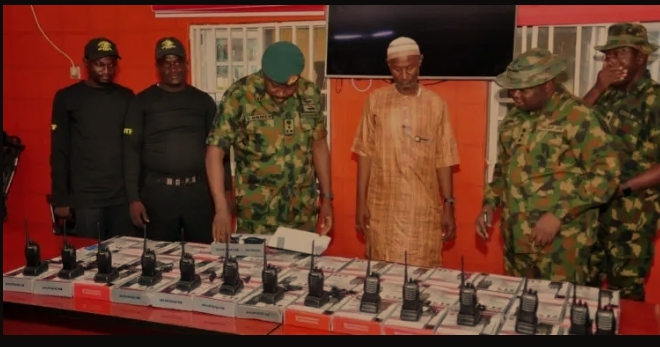 In a commendable display of support and partnership, Brigadier General Sani Ahmed, the Commander of 1 Brigade Nigerian Army in Gusau, Zamfara State, has extended a helping hand to the Civilian Joint Task Force (CJTF).
His advice to the CJTF, given in no uncertain terms, is to steer clear of extrajudicial actions.
In addition to this, the Nigerian Army has generously provided 100 sets of Communication Radios, commonly known as walkie-talkies, as part of their corporate social responsibility to the host community in the state.
The donation of these communication Radios serves a twofold purpose: enhancing cordial Civil-Military Cooperation and strengthening security in Zamfara State.
This crucial initiative underscores the commitment of the Nigerian Army to the safety and well-being of the community.
The presentation of these communication Radios took place during a brief but significant ceremony held at the Headquarters of 1 Brigade Gusau, Zamfara State.
This event marked a pivotal moment in bolstering security efforts and fostering a stronger partnership between the Nigerian Army and the CJTF.
Brigadier General Sani Ahmed emphasized that the provision of Baofeng Radios is an integral part of his Corporate Social Responsibilities towards the host communities.
These communication Radios will be instrumental in aiding the CJTF in executing their responsibilities effectively, ensuring the safety of lives and property within their respective communities in the state.
The Commander reiterated the utmost importance of respecting human rights.
He emphatically urged the CJTF not to engage in extrajudicial activities while fulfilling their duties.
Furthermore, he stressed the significance of information sharing among the Vigilantes and improving their vigilance levels within their communities.
Alhaji Ahmed Mohammed, Chairman of the Civilian Joint Task Force, extended heartfelt gratitude to Brigadier General Sani Ahmed for his noble gestures.
He warmly acknowledged the CJTF's tireless efforts and the prior provision of motorcycles by the commander to support their operations.
Alhaji Ahmed Mohammed assured the Commander that the Baofeng Communication Radios would significantly enhance their operational activities in the State.
He pledged that the CJTF would operate in strict adherence to the established rules and regulations, always showing respect for human rights.
It's a step towards a safer and more secure Zamfara State.