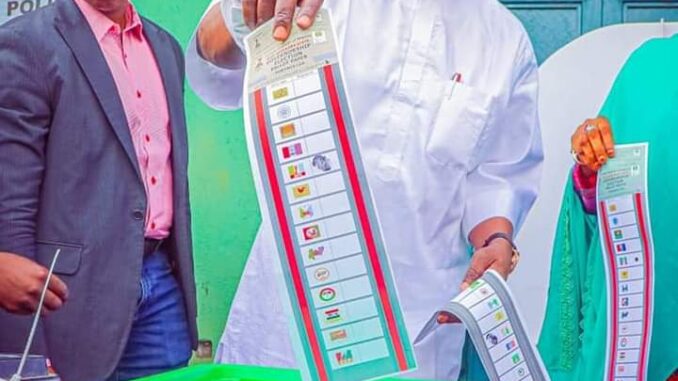 From Solomon Attah,Lafia
Voters have commenced voting for candidates of their choices in the Governorship and State Houses of Assembly elections in Nasarawa-Eggon Local government area of Nasarawa State.
As at 7am sensitive and non sensitive election materials materials have been sorted out and been distributed to across the 254 polling units in the 14 electoral wards in Nasarawa-Eggon.
ElanzaNews gathered that, elections started almost the same time across the state, amidst low turn out of people.
The turnout was not very impressive, as compared to the last election that witnessed large turnout of voters.
Even though, as at 6:30am voters, both women and youths are seen on the queue waiting to cast their votes.
In most of the local governments, for instance, there are voters apathy, in spite the early delivery of election materials.
Most of the polling units visited, Akuabmeh Galle Polling Unit-021, Kofar Yakubu Adah Polling Unit- 010 and the polling units in Areas Eggon Palace had had low turn out of voters.
Franca Odeh, the presiding officer of RCM primary school polling unit 027, Nasarawa-Eggon, said so far, the electiin is peaceful and orderly.
Odeh said, materials arrived early and election also commenced, adding that "we are a bid early today and everything is working working fine
She added, as compared to the last election, that was the first time and things were not really in order.
A voter, Mohammed Maga Sule, who first casted his vote at the polling unit, was accredited and captured by the BVAS.
Sule, the presidential and Nation assembly elections was late and experienced hitches because it was the first time.
He said, as at the time he casted his vote, it was 8:15am, as compared to the last election, when the elections started about eight hours difference.
He called on the INEC to improve on the security situation on the election and the way election materials are been distributed.
Also, an observer, Samuel John Magaji, from the Polling Units Ambassador of Nigeria said, commended INEC to the timely delivery and distribution of election materials to the various Polling Units.
"For the Governorship and State Houses of Assembly election, the materials arrived in good time.
"As we arrived the local Collation Center, the materials have been distributed by 7:20am and elections commenced by 8:10am.
"It is peaceful and people are coming out and it is hope that, everything will end well."