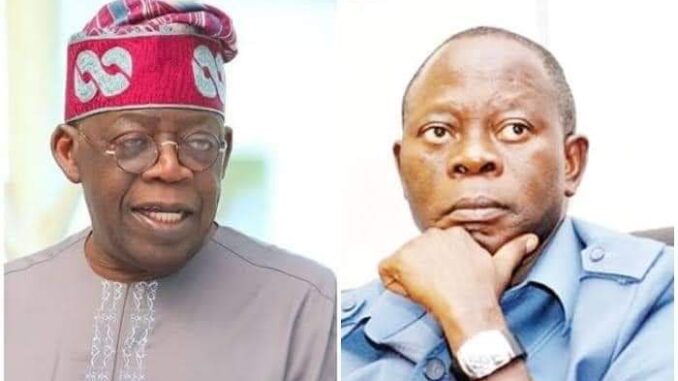 It was quite depressing to read a statement from the Chairman of the Edo State chapter of the All Progressives Congress (APC), Col. David Imuse, whose government at the centre has thrown the entire State, and I dare say, the entire country into pervasive gloom and perpetual fear for the future.
READ ALSO:APC-led FG Playing Politics By Abandoning Federal Roads in Our State – Edo govt
Imuse's statement is a slap on the faces of citizens of Edo State and, indeed, all Nigerians, considering the fact that it is his party, the APC, that is superintending over the gradual liquidation of the Nigerian State.
A litre of fuel which used to sell for N159 now sells for N700; one dollar which exchanged for N150, today goes for N870 and above; a pound which exchanged for between N850 and N900, is now exchanging over N1,100. Nigeria is gasping for breath under the chokehold of the APC.
Instead of Imuse to come to Edo people with unreserved apologies over their obvious failure to steady the ship of State, he is sauntering around with arrogant statements, grandstanding and attempting to shift the blame for the suffering of the masses to an innocent Governor, whose effort in the efficient management of the Edo economy has so far prevented a descent into anarchy.
Imuse in his statement repeatedly spoke about a certain N16 billion that was refunded to the Edo State Government from the alleged intervention in the repair of Federal Roads by Adams Oshiomhole, when he was governor.
He, however, conveniently left out the fact that the same Adams Oshiomhole left the state with nothing less than N160 billion debt expended on various jamborees, including the so-called Federal Roads that he fixed while seriously needed infrastructure and economic development in the State suffered.
Imuse may not have regard for his leaders including the Governor of Edo State but he should at least spare a thought for innocent Nigerians who are paying the ultimate price daily on the various completely dilapidated Federal Roads around Edo State. The least they expect from the Federal Government is to live up to their responsibilities of protecting their lives and properties.