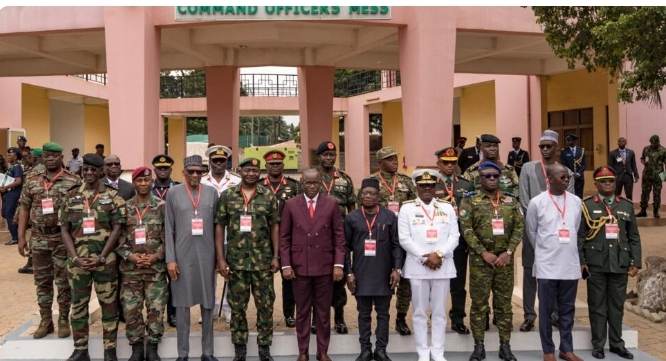 By Tambaya Julius, Abuja
In a significant development, the Defence chiefs of the Economic Community of West African States (ECOWAS) convened in Ghana on Thursday, collectively committing to the deployment of troops to Niger Republic.
This mission aims to reinstate democratic governance should all peaceful attempts to remove the junta from power prove unsuccessful.
The removal of President Mohamed Bazoum from office on July 26 by senior military leaders has mirrored the trajectories witnessed in Mali, Burkina Faso, and Guinea.
These instances of political upheaval have triggered ECOWAS's swift response.
Underlining their unwavering commitment, ECOWAS Commissioner for Political Affairs, Peace, and Security, Abdel-Fatau Musah, conveyed a resolute message to the assembled defence chiefs.
Musah's assertion that the valiant West African forces are prepared to fulfill their duty resonated through his words, signaling the organization's intent to uphold constitutional order.
Drawing parallels with past successful deployments in Gambia, Liberia, and other regions, Musah showcased ECOWAS's readiness to act effectively when democracy is under threat.
Rejecting any notion of manipulation by external forces, Musah underscored ECOWAS's adherence to its established protocols and norms.
"It is vital to recognize that ECOWAS operates as a rules-based entity," Musah stated emphatically.
He reaffirmed the organization's commitment to safeguarding its principles, driving home the point that ECOWAS is steadfastly prepared to defend its foundation.
Furthermore, Musah extended an invitation for like-minded democracy-supporting partners to join forces with ECOWAS in its mission.
While reaffirming ECOWAS's self-reliance in contingents, equipment, and resources, Musah's words echoed a call for unity in the face of political turbulence.
Musah didn't mince words when addressing the Niger coup leaders' conduct.
He labeled their actions as a "cat-and-mouse" game, pointing out their reluctance to engage with ECOWAS envoys and their attempts to justify their takeover.
This evasion raises serious concerns about their commitment to democracy and regional stability.
As ECOWAS maintains its unwavering stance on upholding constitutional order, the international community watches with interest.
The organization's dedication to fostering democracy, its resilience against manipulation, and its resolute military capability underscore its central role in ensuring stability in the West African region.
The ECOWAS Defence chiefs' unanimous decision to deploy troops to Niger Republic reflects the organization's commitment to democratic values and regional stability.