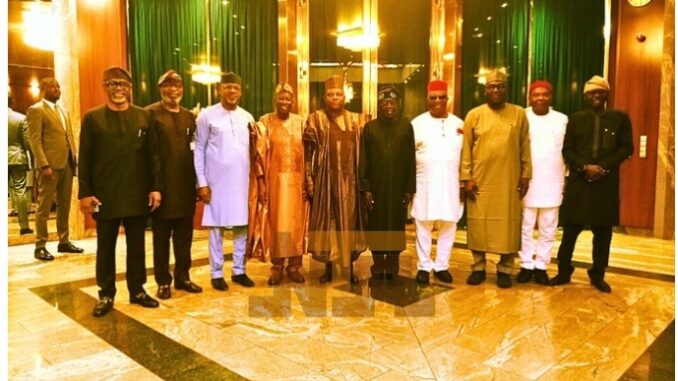 By Tambaya Julius, Abuja
President Bola Tinubu is actively engaging in consultations with prominent figures to lay a firm foundation for the country's economy.
In a recent meeting, the President, accompanied by Vice President Kashim Shettima, Senate President Godswill Akpabio, and several governors from Imo, Kwara, Lagos, and Ogun, as well as former Kano state governor, Abdullahi Ganduje, convened to discuss crucial matters pertaining to the nation's economic stability and development.
During the meeting, the attendees delved into comprehensive discussions on ways to address the prevailing economic challenges.
The focus was not just on identifying problems but also on generating effective and sustainable solutions.
The meeting aimed to explore innovative strategies that could propel the nation towards economic growth and prosperity.
The key primary issues on the agenda was the finalization of arrangements for the distribution of palliatives.
The participants acknowledged the significance of cushioning the impact of the fuel subsidy removal on the vulnerable sections of society.
With thoughtful consideration, they strategized the equitable distribution of these palliatives to ensure maximum reach and support.
Ensuring food security remained at the forefront of the discussion.
The Presidency had previously proposed the distribution of grains and fertilizers to farmers as part of measures to enhance food security.
The meeting aimed to consolidate this proposal and explore additional measures to strengthen the nation's agricultural sector, thereby ensuring a steady and sustainable food supply for the populace.
As the discussions progressed, it became evident that a collaborative approach, bringing together key political figures and governors from various regions, could foster an inclusive and effective decision-making process.
The diverse perspectives and experiences shared during the meeting paved the way for a comprehensive roadmap to tackle the prevailing economic challenges.
President Bola Tinubu's commitment to seeking insights from influential stakeholders to bolster the nation's economy is commendable.