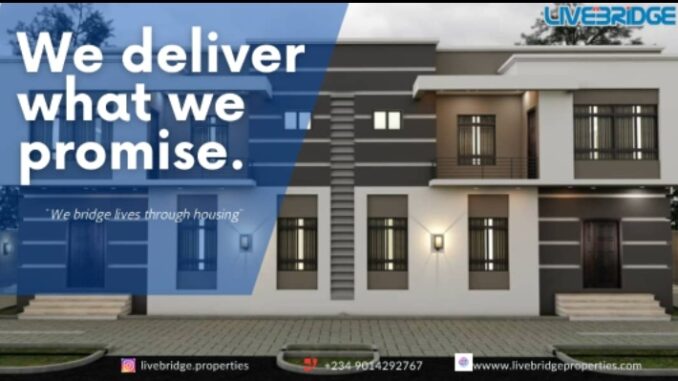 By Tambaya Julius, Abuja
In the heart of Nigeria's bustling capital, Abuja, a remarkable transformation has been underway for years.
Livebridge Properties and Investment Ltd, a name synonymous with excellence, has been at the forefront of this urban evolution.
A Legacy Of Excellence !
Livebridge Properties and Investment Ltd has etched its legacy in the annals of Abuja's real estate landscape.
From its inception to the present day, this esteemed company has consistently delivered top-notch properties that redefine luxury living.
The Visionary Leadership !
At the helm of Livebridge Properties and Investment Ltd is a team of visionaries led by the indefatigable Mr. Obinna Flaker Nwaneri.
His unwavering faith in the potential of Nigeria's real estate market has been the driving force behind the company's meteoric rise.
Key Milestones:
1. Transforming Urban Living
Livebridge Properties and Investment Ltd embarked on a mission to transform urban living in Abuja.
With meticulous planning and attention to detail, they have created architectural marvels that cater to the diverse needs of their clientele.
2. Community Integration
One of Livebridge's unique selling points is its commitment to community integration.
Each development is seamlessly woven into the fabric of Abuja, fostering a sense of belonging and unity among residents.
3. Sustainable Practices
In an era where sustainability is paramount, Livebridge Properties and Investment Ltd stands out.
Their eco-friendly initiatives ensure that their properties not only enrich lives but also nurture the environment.
4. Customer-Centric Approach
At Livebridge, The Customer Is King !
Their unwavering commitment to customer satisfaction has earned them a loyal clientele who vouch for their professionalism and integrity.
Livebridge Properties and Investment Ltd's success story can be attributed to several factors:
1. Location Advantage
Their strategic selection of prime locations in Abuja ensures that residents have easy access to essential amenities and a high quality of life.
2. Innovative Designs
Livebridge Properties and Investment Ltd continuously pushes the envelope with innovative architectural designs that set new industry standards.
3. Investment Opportunities
Investing in a Livebridge property isn't just about owning a home; it's about securing your financial future. Their properties have proven to be excellent investments.
4. Community Development
Beyond construction, Livebridge is committed to community development.
They actively engage in initiatives that uplift the local communities in which they operate.
Livebridge Properties and Investment Ltd's journey in Abuja's real estate sector is a testament to vision, dedication, and unwavering faith.
With Mr. Obinna Flaker Nwaneri leadership, the company has not only transformed urban living but also redefined the standards of excellence.
Discover more about Livebridge Properties and Investment Ltd and how their commitment to excellence is shaping Abuja's real estate landscape.
Join us in celebrating this success story that continues to inspire and uplift communities in Nigeria's capital city.
Office Address:
Suit 401, 3RD Floor Better Foundation Plaza (Formaly Patsy Plaza), Plot 359, Ebitu Ekiwe Crescent, Jabi District, Abuja.
Website:
www.livebridgeproperties.com
Email Address: livebridgeproperties@mail.com
Tel: +2347089169000, +2349014292767.