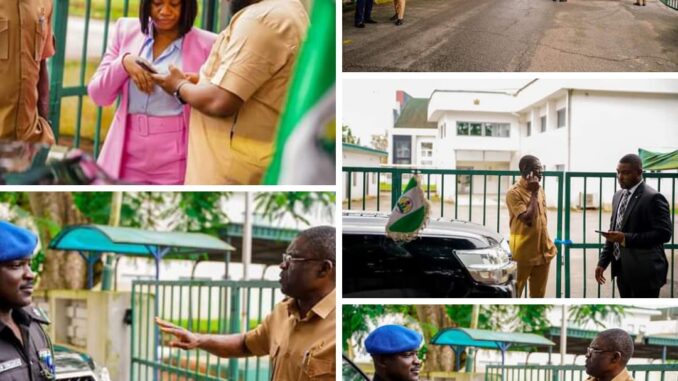 In a surprising turn of events, Edo State Deputy Governor, Rt Hon Comrade Philip Shaibu, arrived at his government office on Monday, only to find himself locked out.
The gates leading to the deputy governor's office and the main entrance to the government house were secured with chains and heavy padlocks, preventing his entry.
Shaibu and his aides patiently waited for about an hour, attempting to contact the governor, but their efforts went unanswered. Sources revealed that Shaibu promptly contacted the state commissioner of police and the Director of State Security Services (DSS) to report the situation.
In his determination to resolve the issue, Shaibu summoned the government house camp commandant, Ibrahim Babatunde (SP), seeking an explanation for his unexpected exclusion from his office. Babatunde explained that it was a directive from higher authorities and suggested that Wabba, the Chief Security Officer (CSO) at the government house, would be better equipped to provide further clarification.
Shaibu attempted to reach Wabba Williams by phone, assuring him of his impending visit. However, despite his persistent efforts, Williams did not make an appearance during Shaibu's waiting period.