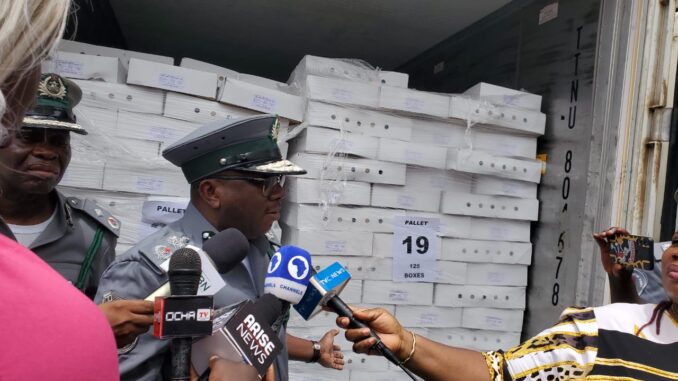 By Abubakar Yunusa
The Nigeria Customs Service, Tincan Island Port Command, has impounded 2 by 40ft containers with Bill of lading No. 227578945 and 227898171 filled with unregistered Pharmaceutical products worth over the sum of Five Hundred and fifty million naira at the Sea Port in Lagos.
Speaking with Newsmen at the Command's press briefing on 28th August 2023, the Customs Area Controller, Comptroller Kunle Oloyede, said his operatives exhibited a high level of professionalism in intercepting the illicit drugs carefully concealed in the containers to evade justice with the intention to bribe the officers.
"I instructed my officers to play along; the request was granted in expectation of receiving vital information from the suspect, but to their bewilderment, the suspect pleaded for his freedom from detention and release of the containers while offering gratification to the tune of N50,000,000.00 equivalent to $54,330 at the current exchange rate of N920. "The money was collected and kept in safe custody at the Enforcement Unit to be tendered as an exhibit." He explained.
Upon one hundred percent examination, the container was falsely declared to have, One Thousand and Sixteen (1,016) packages containing electrical goods, ceiling fans, 36 jewel (corper) and chilly cutters (stainless steel + plastic). Still, the container was found to conceal five cartons of Timaking, 120 Tapentadol cartons containing 50 rolls; each roll includes 5 packets, each packet 200 tablets.
Also, some Eighty-four (84) cartons of Gastro Resistant Omeprazole capsule BP 200mg. Each carton contains 50 packets; each packet contains 10 capsules. Eight Hundred and Seventy-six (876) cartons of CSMIX cough syrup containing Codeine, each carton containing 200 bottles, and Fifty cartons of Manual Grater Machine with 70 pieces were included in each carton.
The other container was falsely declared to have One Thousand and Twenty-one packages containing Electrical goods, ceiling fans, 36 jewels and a chilly cutter but contained ten cartons of Super Royal 225 (Tramadol). Each carton has in it 50 rolls containing 20 packets, with each packet containing 10 tablets.
Others include One Hundred and Five cartons of Omeprazole Capsule BP 200mg, Seven Hundred and Fifty-Four cartons of Barcadin with Codeine, 70 pieces of Fifty cartons of Manual Grater Machine and One carton of Compo Ceiling Fan.
Similarly, the CAC said following an intensive surveillance operation on a routine examination carried out at the command, a container was found to contain frozen poultry products.
He added that the Single Goods Declaration (SGD) and other supporting documents (Form M and PAAR) stated Tangerines were used to conceal imported frozen food products.
"The goods were falsely declared as they are under the import prohibition items. The container has been seized for contravention of Section 233 of the Nigeria Customs Service Act 2023″.
He said the persistent fraudulent nature of importers and agents has driven the Command to be more innovative in putting methods and measures to combating smuggling activities, and the Command will ensure that the Port will not harbour any illegal passage of prohibited items.
"The Nigeria Customs Service will not be a party to nefarious acts which jeopardize the safety of lives of the citizens of our dear country, Nigeria. Any fraudulent importer or agent who tries to perpetrate such acts will be prosecuted".
Adekunle Oloyede assured all that the two suspects arrested in connection with the seizures will be further investigated and prosecuted accordingly.