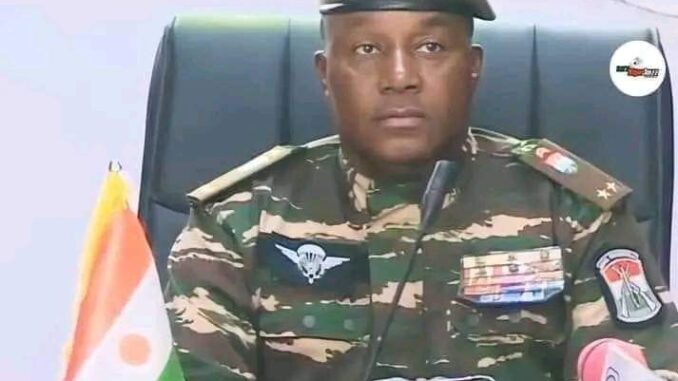 The Coalition of Northern Groups (CNG), on Saturday, told the federal government not to plunge Nigeria into war, saying that all economic and diplomatic options must have been exhausted before the deployment of Nigerian soldiers to Niger.
The coalition noted that the initial measures taken by President Tinubu as the leader of ECOWAS, which included summoning other West African leaders and issuing an ultimatum that Bazoum be reinstated or a strong regional military force will be deployed to forcefully reinstate him.
CNG, in a statement by its spokesperson, Abdul-Azeez Suleiman, told President Bola Ahmed Tinubu and the Economic Community of West African States (ECOWAS), to use political and diplomatic ways to stem the tide.
Suleiman said: "We join other Nigerians particularly the Northern Senators Forum in rejecting the option of war and call instead for political and diplomatic means to restore democratic government in that country.
"We urge the federal government not to rush into war without exhausting every economic and diplomatic means to pressure the junta in Niger to return power to the democratically elected government.
"We caution President Tinubu that in consideration of our own national interest, a military intervention in Niger must be an absolutely last option for Nigeria, given our own present domestic fragility.
"Invite ECOWAS and the international community to understand that bilateral friendships are guided by the principles of sovereignty, promotion of peace and the standards that guide legitimate interference. "
The CNG further called on the Senate and the Nigerian Presidency that "Nigeria entered into bilateral agreements to export electricity to Niger, Benin and Togo so that the three countries will not build dams on River Niger and the purported cut of supply to Niger could amount to breech. "
CNG observed that a sinister international power game is at play in Niger with Western Powers, on one hand, Russia and China, on another hand, and some other African countries playing behind the scene.
"That with developments in other Sahel countries that are part of a global power chessgame any military intervention in Niger would be resisted and considered as an invasion by Russia/China, Mali and Burkina Faso, which could get very messy and protracted.
"That a war in Niger will engulf the entire West African subregion and bring about mass killings and suffering of innocent people. That about seven northern Nigerian states that share border with Niger Republic namely Sokoto, Kebbi, Katsina, Zamfara, Jigawa, Yobe and Borno will be negatively affected.
"That at the moment, the new military junta in Niger Republic enjoys enormous goodwill among the vast majority of the citizens of the country with demonstrations in rural and urban Niger.
"That in Nigeria, the tide of public opinion is overwhelmingly against any form of Nigeria-led military aggression to restore civilian rule in Niger. That Nigeria would be expected to expend billions to execute the war when the country is grappling with its harsh economic realities.
"That it could be interpreted as illegal that Nigeria cuts off power exported to Niger, Benin and Togo based on Multilateral Energy Sales Agreement on the basis that they would not dam the waters that feed Nigeria's major power plants in Kainji, Shiroro and Jebba."