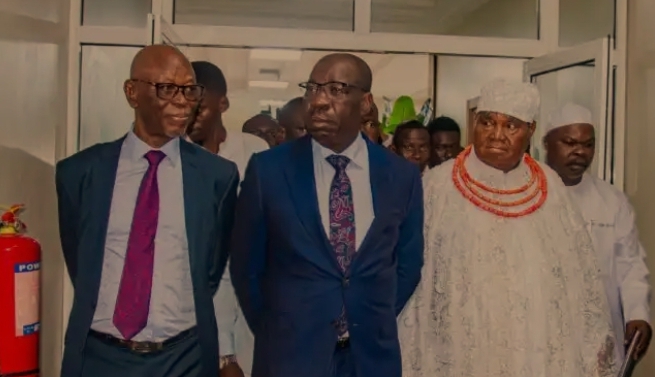 Former Edo State Governor, Chief John Odigie Oyegun, reflects on his early retirement as a result of his unwavering principles during his tenure as Permanent Secretary in the Federal Civil Service.
Discover how refusing to compromise paved the way for a legacy that still resonates today.
Delve into the formal commissioning of the John Odigie Oyegun Public Service Academy (JOOPSA), an institution celebrating Oyegun's exceptional civil service career.
Learn how the Edo State government commemorated his 84th birthday and 19 years of meritorious service.
Explore Oyegun's praise for the developmental strides made by Governor Obaseki in Edo State.
Uncover how the governor's vision is shaping the State's future through various hubs and innovative initiatives, ensuring Edo State remains globally relevant.
Discover Oyegun's call to civil servants to aim for excellence in their careers.
Understand the impact of dedicated service and how it influences recognition and advancement.
Learn the importance of standing by one's integrity and beliefs in the face of challenges.
Unearth the moments of fearless leadership in Oyegun's journey.
From refusing the role of Managing Director of Nigeria Airways due to integrity concerns to standing up to Military directives that conflicted with his values, Oyegun's ethical choices shaped his impactful career.
Dive into Oyegun's assessment of Nigeria's current challenges. Explore the loss of values, ethics, and morality, and how this impacts the nation's progress.
Learn how JOOPSA aims to reverse this trend by instilling a sense of service, excellence, and integrity in future leaders.