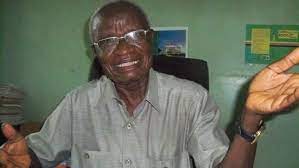 By Sunday Isuwa
The extraordinary literary journey of Agbo Areo, a revered Nigerian author and publisher, and his remarkable contributions to Nigerian literature deserves honour that's why his legacy and profound impact on the literary landscape will never be forgotten.
The Society of Young Nigerian Writers (SYNW) deeply mourns the loss of Mr Agbo Areo, a distinguished Nigerian author and publisher, who peacefully passed away at the age of 83.
The news of his demise has cast a veil of sorrow over the entire literary community.
In an official statement issued by Wole Adedoyin, the President of the SYNW, the society pays heartfelt tribute to Agbo Areo's outstanding contributions to the Nigerian literary scene.
Throughout his illustrious career, the statement said Areo made a profound impact as an editor and writer, leaving an indelible mark on generations of readers and writers.
Agbo Areo's accomplishments were many, but one of his most notable achievements was the creation of the iconic Pacesetter Novels. This renowned series, comprising 130 works of popular fiction written by esteemed African authors, was published by Macmillan. Notably, the first book in this series, titled "Director!", was authored by the late Agbo Areo himself. The SYNW proudly acknowledges this significant milestone.
Beyond the Pacesetter Novels, Agbo Areo penned numerous other exceptional literary works that enraptured audiences far and wide. Titles such as "The Hopeful Lovers," "Mother's Choice," and the Yoruba masterpiece "Ogbon Lo Gba" showcased his versatility, profound understanding of human emotions, and insightful exploration of societal dynamics.
Nurturing Emerging Writers And Uplifting The Literary Community
Areo's dedication to literature extended well beyond his own writing endeavours. As an editor, he played a pivotal role in nurturing and promoting the works of emerging Nigerian writers, providing invaluable guidance and support. His passion for the written word shone through in his tireless efforts to uplift the literary community and create a platform for aspiring authors to showcase their talents.
A Visionary And Trailblazer
The SYNW wholeheartedly recognizes Agbo Areo's lasting legacy as a visionary and trailblazer who tirelessly championed Nigerian literature both within the country and on the global stage. His unwavering commitment to fostering a vibrant literary culture continues to inspire future generations of writers, urging them to push boundaries and share authentic African narratives.
A Final Farewell
During this difficult time, we extend our deepest condolences to the family, friends, and colleagues of Agbo Areo. May his soul find eternal rest, and may his remarkable contributions to the literary world be forever cherished. Let us come together to celebrate his life, honour his legacy, and ensure that his influence continues to shape the Nigerian literary landscape for years to come.
Subheading: Remembering Agbo Areo's Literary Impact
Agbo Areo's passing leaves a void in the literary world, but his legacy as a prolific writer and publisher lives on. His works have left an indelible mark on Nigerian literature, captivating readers with their depth, emotion, and societal insights. From his early beginnings to his later achievements, let us delve into the remarkable journey of this esteemed author.
Early Years And Literary Beginnings
Agbo Areo's passion for storytelling emerged at a young age. Growing up in Nigeria, he was captivated by the rich oral traditions and folktales that surrounded him. These early influences sparked his creative spirit and ignited his desire to share captivating narratives with the world.
Shaping Nigerian Literature With Pacesetter Novels
Agbo Areo's visionary spirit led him to establish the renowned Pacesetter Novels series, published by Macmillan. This collection became a cornerstone of Nigerian popular fiction, showcasing the diverse voices and narratives of African authors. The impact of these novels resonated not only in Nigeria but also across the continent, inspiring a new generation of writers to explore their own stories.
Agbo Areo's Literary Works
Beyond the Pacesetter Novels, Agbo Areo's literary prowess extended across various genres and themes. His novels, such as "The Hopeful Lovers" and "Mother's Choice," delved into complex human relationships, weaving tales of love, loss, and resilience. These works struck a chord with readers, who found solace and relatability within the pages of Areo's books.
Additionally, Agbo Areo's exploration of Yoruba culture and heritage in his novel "Ogbon Lo Gba" showcased his commitment to preserving and celebrating Nigeria's diverse cultural tapestry. Through his writing, he not only entertained but also educated readers about the rich traditions that shape the Nigerian identity.
Agbo Areo As A Literary Mentor
As an editor, Agbo Areo played a pivotal role in shaping the literary landscape by nurturing and promoting emerging Nigerian writers. His mentorship provided a platform for talented individuals to refine their craft and gain recognition. Many writers attribute their success to Areo's guidance and unwavering support, showcasing his profound influence on the next generation of Nigerian literature.
A Lasting Legacy
Agbo Areo's contributions to Nigerian literature will continue to reverberate through the pages of his works and the impact he had on fellow writers. His dedication to uplifting the literary community and amplifying African voices leaves an enduring legacy of creativity, resilience, and cultural pride. As we bid farewell to this literary icon, let us remember his words, his vision, and the profound mark he made on Nigerian literature.