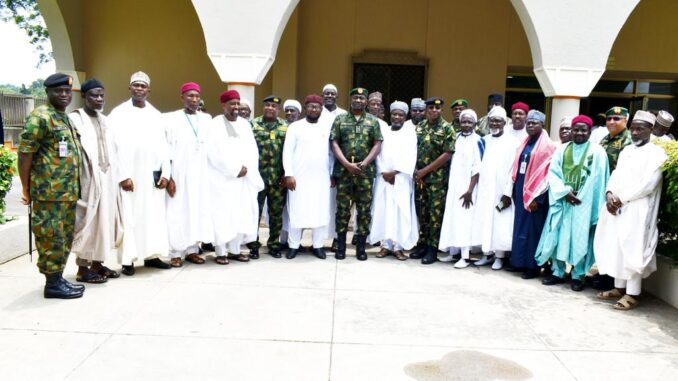 In a significant move towards fostering national unity and strengthening the bond between Nigeria's armed forces and religious leaders, General Christopher Gwabin Musa, the Chief of Defense Staff (CDS), paid a visit to the leadership of the Supreme Council of Islamic Affairs at the National Mosque in the Federal Capital Territory (FCT) Abuja on a Friday.
General Musa underscored the primary purpose of his visit, which was to enhance the relationship between the Nigerian armed forces and religious leaders throughout the nation.
He emphasized the unwavering commitment of the military to safeguarding the lives and property of all Nigerians, regardless of their tribal or religious backgrounds.
In a resolute stance, the CDS clarified that the military remains nonpartisan and apolitical.
He vowed to take every necessary action to shield the country's territorial integrity from any external threats or aggression.
General Musa called upon the religious leaders in Nigeria to leverage their influential positions to promote the peace and unity essential for the socioeconomic advancement of the nation.
He highlighted the vital connection between peace and development, emphasizing that the two are inseparable.
The Chief Imam of the Central Mosque, Sheikh Professor Ibrahim Ahmad Maqari, along with other Imams present, expressed their gratitude to General Musa for his visit.
They emphasized that all the Imams within the Central Mosque and other mosques in the FCT are staunch advocates of peace in their sermons and actions.
The Council members assured the CDS of their continued prayers for peace in the country.
This visit signifies a significant step towards strengthening national unity and ensuring that Nigeria remains a harmonious and prosperous nation, with the military and religious leaders working hand in hand to secure a peaceful future for all citizens.