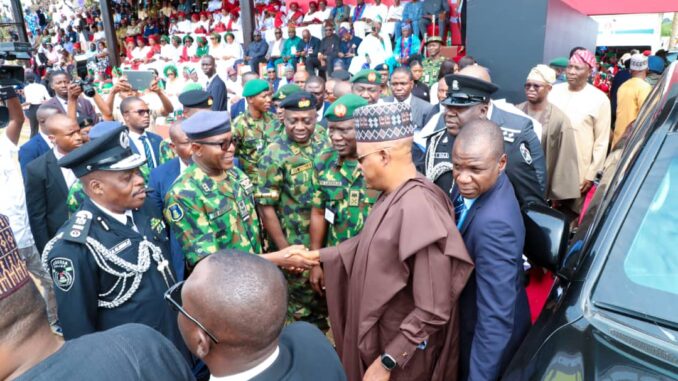 The Chief of Air Staff, Air Vice Marshal Hasan Abubakar, graced the prestigious occasion of the 2023 Nigerian Army Day Celebration (NADCEL) in Ibadan .
This significant event marked the 160th Anniversary of the Nigerian Army (NA) and witnessed a spectacular showcase of the NA's extensive arsenal, a grand parade, and the impressive calisthenics display by the NA Physical Training Corp.
This was contained in a statement made available to reporters by Director of public relations and information of Nigeria Air Force, Edward Gabkwet said
"The seamless coordination and collaboration between the NAF aircrew and the NA troops were commendable."
He said ,the Nigerian Air Force (NAF) contributed to the success of the event by providing airlift support with their C-130 aircraft and Mi-117 helicopter, enabling the skilled rappelers and paratroopers to captivate the audience with their exceptional courage and professionalism.
During his visit to Ibadan, the CAS dedicated his time to inspecting the ongoing projects at the new NAF Base, located in the Ajia Community.
This noteworthy initiative began in April 2022 when the Oyo State Government generously donated a 58-hectare plot of land to the NAF for the construction of a permanent base.
The completion of this base will significantly enhance the NAF's preparedness and ability to respond promptly to security challenges in the State.
Moreover, the strategic proximity of the new base to the Ibadan Airport will serve as an alternative airfield to the Lagos airfield, facilitating seamless and efficient air operations throughout the Southwest Region of Nigeria.