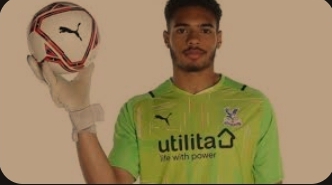 By Tambaya Julius, Abuja
In an exciting development for football enthusiasts, Crystal Palace's talented goalkeeper Owen Goodman has recently sealed a year-long loan agreement with Colchester United, positioning him to make a significant impact during the upcoming 2023/2024 season.
The nineteen-year-old prodigy's transfer is subject to the customary approval from the relevant authorities.
Owen Goodman embarked on his footballing journey as a member of Crystal Palace's esteemed Academy, joining the U13s age group.
Displaying exceptional skill and dedication, Owen steadily climbed the ranks, eventually earning his first professional contract at the tender age of seventeen.
The relentless efforts and unwavering commitment displayed by this talented individual have undoubtedly played a pivotal role in his remarkable trajectory thus far.
During the previous season, Crystal Palace, a Premier League team, attained an impressive eleventh-place finish in the English Premier League table.
Owen's contributions to the club have been nothing short of outstanding, solidifying his reputation as a burgeoning talent within the footballing realm.
Operating as a goalkeeper, his prowess between the goalposts has captivated fans and experts alike, leaving an indelible mark on the sport.
Owen Goodman's exceptional performances have garnered attention not only from club scouts but also from national team selectors.
Both England and Nigeria expressed interest in securing his allegiance, a testament to his immense potential.
Making a decision in favor of his birth country, Owen made his debut for England's U20s in March, showcasing his skills on an international stage against the USA.
This noteworthy achievement underscores his standing as a highly sought-after prospect in the realm of football.
With his loan move to Colchester United, Owen Goodman is poised to continue his footballing journey and further hone his abilities during the 2023/2024 season.
Football enthusiasts eagerly await the opportunity to witness Owen's talents unfold in a new environment, where he will undoubtedly strive to make a lasting impact.