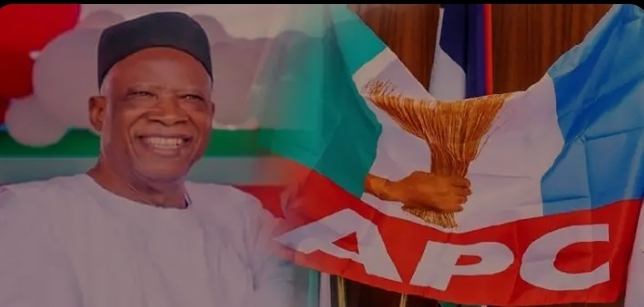 By Tambaya Julius, Abuja
The National Chairman of the All Progressives Congress (APC), Senator Abdullahi Adamu has tendered his resignation from the position, following the directive of President Bola Ahmed Tinubu.
This development comes amidst growing concerns within the party's ranks regarding the transparency of the 2022 Account audit.
The resignation of Senator Adamu, who previously served as the governor of Nasarawa State, marks a pivotal moment for the ruling party.
The decision was conveyed by reliable sources within both the APC and the Presidency, affirming that Senator Adamu resigned at the behest of President Tinubu himself.
Shortly after Senator Adamu's resignation, Iyiola Omisore, the party's national secretary, also submitted his resignation, further adding to the intrigue surrounding the party's leadership.
Prime Business Africa (PBA) received confirmation of these developments on Sunday, July 16, emphasizing that the information was sourced from trusted insiders.
The circumstances surrounding Senator Adamu's resignation were reportedly driven by President Tinubu's directives, implying a significant shift in the party's dynamics.
However, the scheduled National Working Committee (NWC) meeting, originally planned for July 19th, now remains uncertain, given the recent turn of events.
The meeting was intended to prepare for the upcoming Caucus and National Executive Committee (NEC) sessions scheduled for July 18 and 19, respectively.
It is worth noting that the APC had previously rescheduled the NWC, Caucus, and NEC meetings from the previous week due to internal disagreements and intra-party politics.
Senator Adamu's request was purportedly behind the postponement of the NWC and the President's meetings, highlighting the magnitude of the situation.
Reliable sources confirm that all members of the NWC are in agreement regarding the compulsory resignations of the National Chairman, Senator Adamu, and the party's Secretary, Omisore.
The discontent among the NWC members stems from the alleged lack of transparency surrounding the party's 2022 Account audit, which they claim was obtained and submitted without their knowledge or review.
The aftermath of Senator Adamu's resignation raises numerous questions regarding the future course of action within the APC.
As the party navigates through this critical phase, it remains to be seen how the vacant leadership positions will be filled and what impact this will have on the party's internal dynamics and broader political landscape.