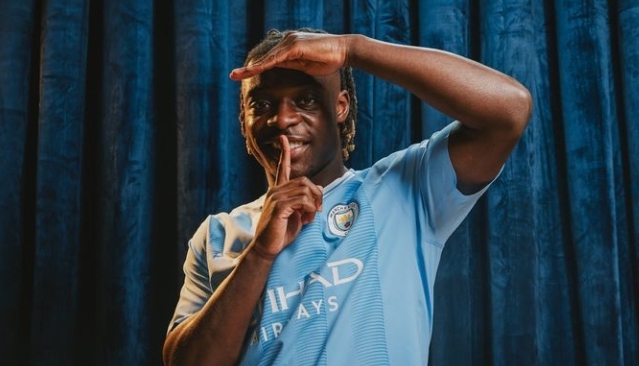 In a groundbreaking development for the football world, Manchester City has officially sealed the deal to bring aboard the highly sought-after Belgian winger, Jeremy Doku.
This strategic move, executed with precision, has solidified City's position as a global football powerhouse.
Doku's signing marks the dawn of a new era, igniting excitement amongst fans and football enthusiasts alike.
Jeremy Doku, a prodigious talent at the tender age of 21, had been the subject of intense speculation, with several Premier League clubs vying for his signature during this summer's transfer window.
However, it is Manchester City that emerged victorious in this fiercely competitive race, securing Doku on a remarkable five-year contract.
Expressing his elation, Jeremy Doku articulated, "Today is a momentous day in my career, one that holds profound personal and professional significance.
Manchester City represents the zenith of world football, and joining this illustrious club is a dream come true for me and my family."
He continued, "As a young player, I acknowledge the vast room for growth and refinement in my abilities.
Collaborating with Pep Guardiola and his esteemed coaching staff, alongside the privilege of sharing the pitch with these world-class athletes, assures me of substantial progress.
Witnessing City's triumphant journey last season was awe-inspiring.
Achieving the Treble is the pinnacle of football, and now, I am thrilled to be an integral part of this exceptional team."
Jeremy Doku's skill set predominantly favours the right-sided attacking role, positioning him as a direct successor to Riyad Mahrez, who recently departed the Etihad Stadium for Al-Ahli.
This transition holds immense promise for City's attacking prowess.
In the preceding Ligue 1 season, Doku demonstrated his prowess by netting six goals and providing two valuable assists.
His remarkable form continued into the new season as he found the back of the net in Rennes' season opener against Metz earlier this month.
Jeremy Doku's signing represents Manchester City's third major acquisition of the transfer window, following the arrivals of the talented midfielder Mateo Kovacic and the formidable defender Josko Gvardiol.
These acquisitions underline City's unwavering commitment to excellence and dominance in the footballing arena.
The synergy between Doku's youthful exuberance and City's formidable squad promises a thrilling season ahead.