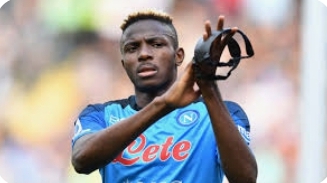 By Tambaya Julius
In a spectacular display of football prowess, Nigerian sensation Victor Osimhen delivered an unforgettable hat-trick performance, propelling the Super Eagles to an emphatic 6-0 victory over Sao Tome & Principe.
This remarkable triumph unfolded on a sun-drenched Sunday at the hallowed grounds of the Godswill Akpabio International Stadium in Uyo, Akwa Ibom.
The red-hot Nigerian striker had previously showcased his scoring prowess by netting four goals against Sao Tome & Principe during the first leg encounter on 13 June 2022, played on foreign soil.
However, this match would be etched in history as the day Victor Osimhen outdid himself.
The exhilarating spectacle kicked off with Victor Osimhen's opening goal merely 13 minutes into the game.
This stunning strike was made possible by an impeccable assist from Ademola Lookman, setting the tone for Nigeria's dominance.
The Super Eagles weren't content with just one goal. Midway through the first half, Ademola Lookman returned the favor, securing the second goal of the match.
This time, it was Wilfred Ndidi who provided the crucial assist, demonstrating a seamless team effort.
The onslaught continued, with Taiwo Awoniyi, a skilled player representing Nottingham Forest, notching the third goal for the Eagles on 51 minutes.
His clinical finish showcased Nigeria's diverse attacking talent.
Osimhen wasn't done yet. On the 70th minute, he displayed nerves of steel, converting a penalty opportunity to secure his second goal of the match and Nigeria's fifth.
The relentless drive of the Super Eagles was a sight to behold.
The crowning moment arrived as Osimhen completed his hat-trick, scoring the sixth and final goal for Nigeria on the same 70th-minute mark.
Samuel Chukwueze, a key player representing AC Milan in Italy, provided the assist, capping off an extraordinary performance.
To conclude this remarkable journey, Samuel Chukwueze himself added his name to the scoresheet, making it 6-0 for the Super Eagles.
Victor Boniface, hailing from Bayer Leverkusen in Germany, played an instrumental role in this goal, sealing Nigeria's resounding victory.
In this historic match, the Super Eagles left an indelible mark, showcasing their exceptional talent and unity on the field.
Victor Osimhen's hat-trick and the superb teamwork exhibited by the entire squad have solidified Nigeria's position as a formidable force in African football.