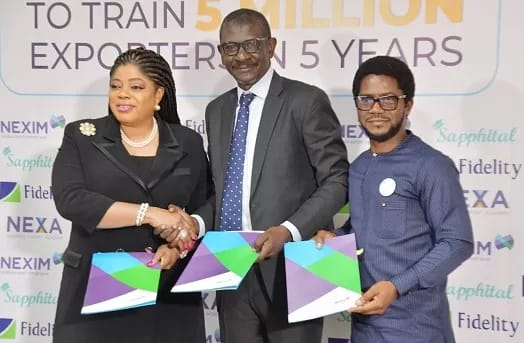 By Abubakar Yusuf
NEXIM, the Nigerian Export-Import Bank, has taken significant strides to strengthen the country's economy by introducing the 'Produce, Add Value and Export' (PAVE) initiative.
This forward-looking program aims to revitalize economic growth by promoting export-driven activities and earnings, not just at the national level but also at the state level.
Collaborating with local and foreign companies, NEXIM seeks to encourage states across Nigeria to diversify their economic strategies and reduce their reliance on federal allocations and loans.
1. Economic Rejuvenation:
Through the PAVE initiative, NEXIM empowers states to explore new avenues for economic growth.
By identifying and harnessing exportable commodities of interest, the program stimulates a surge in export volume, contributing significantly to both the state's economy and Nigeria's overall GDP.
2. Empowerment and Sustainable Development:
NEXIM's PAVE program sets aside a substantial N1 billion for each of the 36 states in Nigeria.
This financial backing is aimed at driving exportable commodities and fostering key stakeholder participation.
Notably, a portion of the funds is dedicated to supporting industries that employ women and youths, aligning with the UN's Sustainable Development Goals.
3. Regional Potential and Natural Endowments:
The program has already identified the potential exportable commodities in each of Nigeria's six geopolitical zones.
Regions such as the North West thrive in agricultural and mineral resources, while other areas excel in various competitive exportable products, including minerals, processed goods, and finished products.
4. Enhancing Local and International Economies:
With meticulous planning under the visionary leadership of Alhaji Abba Bello, NEXIM's PAVE initiative ensures seamless access to funds and discourages red tape.
As a result, states' participation in export activities is streamlined, and job creation is reinvigorated, leading to less competition for earnings within the country.
By empowering states and encouraging diverse exportable commodities, this program strengthens the country's position in the international market while fostering collaborations that drive local and international economies.
Yusuf Is A Public Affairs Analyst, Writing from Abuja with email address yus.abubakar3@gmail.com.