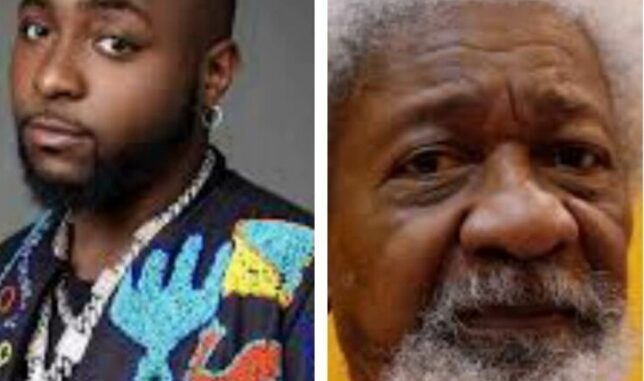 By Tambaya Julius
Freedom Renowned Nigerian writer Prof. Wole Soyinka, has come to the defense of singer David Adeleke, popularly known as Davido, amidst controversy surrounding a video released on his social media.
The video, titled 'Jaiye Lo,' featured scenes that seemingly portrayed elements of the Muslim faith.
While some Muslims criticized Davido for the video's content, Soyinka argues that artistic creativity should not be stifled by emotional reactions.
In his statement, Prof. Soyinka recalls past instances where artists faced backlash for their creative expressions related to religious themes.
He highlights the need to respect an artist's right to deploy dance and other artistic mediums in religious settings.
By doing so, they can invoke a sense of spiritual community, promoting unity and self-surrender among believers.
Soyinka emphasizes that the use of dance as a means of worship is not limited to any particular religion.
From Hare Krishna to Hinduism and beyond, various faiths seek transcendental experiences through the medium of dance.
The universality of this practice reinforces the idea that dancing in front of a mosque, in itself, should not be seen as an act of provocation or offense.
Rather than engaging in divisive debates over artistic expressions, Soyinka urges society to address the more pressing issues plaguing the nation.
He reminds readers that the real challenges lie in matters of life and death that are often rooted in sectarian beliefs.
These issues demand the nation's collective attention and righteous indignation.
In the face of disagreement, Soyinka encourages individuals who find Davido's work offensive to exercise their right to boycott his products.
Respect for differing opinions and choices should prevail, promoting a healthy society where diverse viewpoints coexist.
The article underscores the need to move beyond trivial distractions that cloud more profound societal problems.
Davido's music, like any other form of artistic expression, should not be blamed for serious injustices or human rights violations in the country.