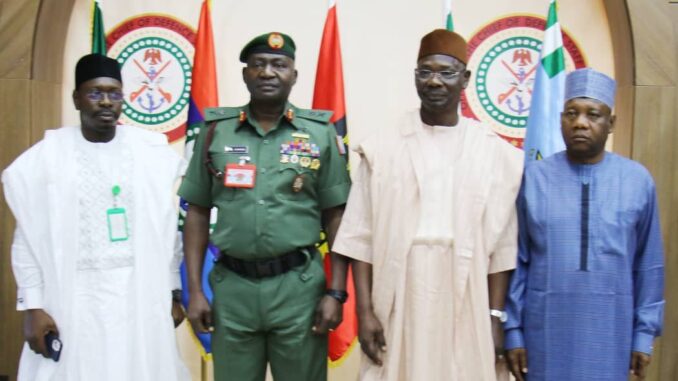 By Tambaya Julius, Abuja
The executive Governor of Nasarawa State, His Excellency, Engineer Abdullahi Sule, recently made a significant and proactive move by paying a courtesy visit to the Chief of Defence Staff (CDS), Major General Christopher Gwabin Musa.
The purpose of the visit was twofold to extend congratulations to the CDS on his well-deserved appointment and to express profound gratitude to the Armed Forces of Nigeria (AFN) for their unwavering efforts in providing adequate security to the State.
During the meeting, Governor Engineer Sule highlighted the importance of staying ahead of security challenges, particularly in light of the discovery of litenum deposits in Nasarawa State.
Drawing a lesson from the Zamfara experience, he emphasized the necessity for proactive measures to address potential security risks posed by the valuable discovery.
In response, Major General Musa, the Chief of Defence Staff, expressed his heartfelt appreciation for the governor's support to the AFN and his commitment to the overall development of the state.
He assured Governor Engineer Sule of the Armed Forces' continuous support, recognizing the strategic significance of Nasarawa State's proximity to the Federal Capital.
As discussions progressed, the Defence Chief called for stringent regulatory control on mining activities within the state to prevent security breaches.
Emphasizing the importance of a proactive approach, he stressed the need to maintain continuous peace in Nasarawa State.
This meeting was marked by a shared vision between the Governor and the CDS for a secure and harmonious state.
By adopting proactive security measures and ensuring strict regulatory control, Nasarawa State is taking bold steps towards safeguarding its future while capitalizing on its newfound litenum wealth.
The governor's visit to Major General Christopher Gwabin Musa is marked by felicitations and appreciation for the AFN's security efforts.
Governor Engineer Abdullahi Sule stresses the need for proactive measures to prevent security issues arising from the litenum deposit discovery.
Major General Musa expresses gratitude for the Governor's support and ensures the Armed Forces' commitment to Nasarawa State's security.
The Defence Chief calls for stringent regulatory measures to forestall security breaches and maintain peace in the state.